Chemical Reaction Engineering Module
Chemical Reaction Engineering Module
Pour la Simulation des Réactions Chimiques et des Bilans d'Energie et de Masse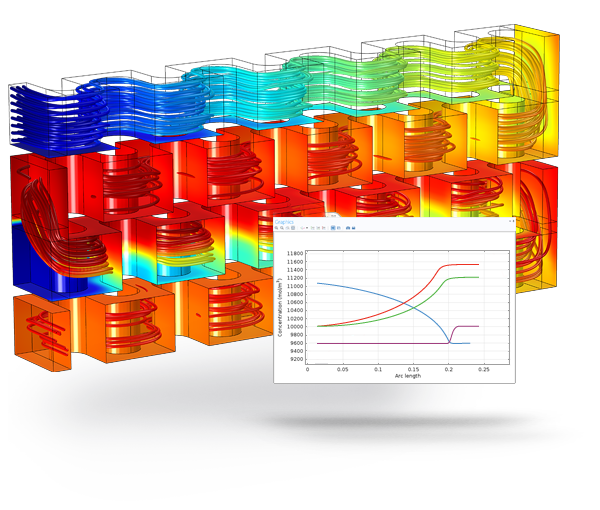 Réacteur à plaques dans lequel les réactions chimiques se produisent, les réactifs étant introduits à partir de deux entrées.
Idéal pour la Chimie et le Génie des procédés
Avec le Chemical Reaction Engineering Module, il est aisé d'optimiser les réacteurs chimiques, les équipements de filtration, les mélangeurs et autres procédés. Ce module propose les outils qui vous aideront à simuler le transport de matière et de chaleur avec des cinétiques chimiques arbitraires dans tous les types d'environnements (gaz, écoulement de fluide, milieu poreux, sur les surfaces et dans les phases solides ou une combinaison de ces environnements). Il est donc l'outil idéal pour simuler tous les aspects des industries chimiques et de génie des procédés, et même les phénomènes environnementaux dans lesquels l'environnement ambiant assume le rôle de « procédé unitaire » ou de « réacteur chimique ».
Convection et Diffusion avec Cinétique Chimique Arbitraire
Le Chemical Reaction Engineering Module dispose d'interfaces intuitives pour le transport de masse par diffusion, convection et migration d'un nombre arbitraire d'espèces chimiques, en solution diluée ou concentrée, ou en mélange. Il est facile de les coupler aux cinétiques de réaction réversibles, irréversibles et en équilibre, décrites par l'équation d'Arrhénius ou par des taux de réaction arbitraires, dans lesquelles les effets de la concentration et de la température peuvent être inclus. L'interface de définition des réactions chimiques permet de rentrer directement les équations et les formules des réactions chimiques comme vous l'auriez fait sur papier. COMSOL génère alors les expressions appropriées pour les réactions en utilisant la loi d'action de masse, que vous pouvez modifier ou remplacer par des expressions cinétiques personnalisées. La stœchiométrie dans les formules des réactions chimiques est automatiquement prise en compte pour définir les équilibres d'énergie et de masse, homogènes ou hétérogènes, qui interviennent en volume ou sur les surfaces.
Images Supplémentaires
Niveaux de concentration dans un réacteur continu (CSTR) pour la production d'ibuprofène dans le temps.
Dans un modèle de réacteur à écoulement piston, il est possible de simuler les concentrations des espèces chimiques sur la longueur d'un réacteur catalytique à lit fixe en présupposant les conditions hétérogènes et les données cinétiques spécifiques de l'utilisateur.
Isosurfaces de concentration dans un réacteur monolithique en 3D.
Phénomènes de Transport
Le Chemical Reaction Engineering Module propose également des outils servant à calculer les propriétés thermodynamiques, à partir de sources externes notamment, pour faciliter le couplage du transfert de chaleur et des équilibres enthalpiques avec le transport de matière et les réactions chimiques. Les interfaces disponibles pour le transport de la quantité de mouvement permettent de décrire complètement les phénomènes de transport. Sont ainsi proposés l'écoulement laminaire en milieu libre et en milieu poreux décrit par les équations de Navier-Stokes, la loi de Darcy et les équations de Brinkman. Le couplage d CFD Module ou du Heat Transfer Module à la modélisation permet d'y ajouter l'écoulement en régime turbulent, l'écoulement multiphasique et l'écoulement non isotherme, ainsi que le transfert de chaleur par rayonnement.
Une étape Indispensable pour l'Optimisation des Réactions Chimiques en Génie des Procédés
Le Chemical Reaction Engineering Module s'adapte à une gamme varié d'applications et de procédés dans les domaines de la chimie, de l'énergie électrique, de la pharmacie, des polymères et de l'alimentation, pour lesquels le transport de matière et les réactions chimiques sont essentiellement liés au procédé étudié. Il propose des outils qui permettent d'étudier tous les aspects de ces applications : des études in-vitro en laboratoire à la remise en état d'un réacteur chimique dans une usine. Il est possible de simuler intrinsèquement une cinétique chimique spécifique en environnement contrôlé pour la décrire précisément à l'aide des fonctionnalités intégrées d'estimation des paramètres et de comparaison à des données expérimentales. Le Chemical Reaction Engineering Module propose différents types de réacteur prédéfinis pour des études plus spécialisées :
Réacteurs Discontinus et Semi-discontinus
Réacteurs Continus (CSTR)
Réacteurs à Ecoulement Piston
Ces types de réacteurs sont accompagnés des définitions appropriées pour les masses ou volumes constants, ainsi que pour les conditions isothermes, non isothermes et adiabatiques. Parfaits pour préciser vos données de cinétique chimique, ces modèles simples vous aident à bien comprendre votre système, par la simulation d'une grande variété de conditions opératoires. Sur la base de ces nouvelles données, il devient possible d'optimiser la conception de l'unité et d'affiner les conditions opératoires à partir d'un modèle 3D ou axisymétrique 2D. La fonctionnalité de génération d'un modèle fonction de l'espace permet de prendre en compte les équilibres d'énergie et de masse du système dans un environnement plus vaste lié à l'écoulement des fluides et aux vitesses des réactions chimiques.
Chemical Reaction Engineering Module
Product Features
Mass transfer in dilute and concentrated solution and mixtures
Material transport through diffusion, convection and ionic transport
Laminar and porous media flow
Hagen-Poiseuille equation
Navier-Stokes Equations, Darcy's Law and the Brinkman Equations
Diffusion and boundary layers
Reacting flow
Mass transfer in concentrated solutions
Multicomponent mass transport and gas diffusion
Multicomponent diffusivity, thermal diffusion and the Soret effect
Fickian, Maxwell-Stefan, and Mixture-averaged transport
Surface diffusions and reactions
Adsorption, absorption and deposition of species at surfaces
Ionic migration through the Nernst-Planck Equations
Species transport and heat transfer in porous media
Bruggeman mass transport parameters
Arrhenius model
Unconditional number of chemical species in arbitrary definitions of chemical reaction kinetics
CHEMKIN® file import
Interface to CAPE-OPEN thermodynamics
---
Application Areas
Batch and high-pressure reactors
Bioreactors and fermenters
Biochemistry, biochemical engineering and food science
Chemical reactor design, sizing and optimization
Chromatography
Continuous reactors and CSTRs
Separators, scrubbers, crystallizers and leaching unit operations
Electrochemcial Engineering
Osmosis, electrophoresis and electroosmosis
Exhaust after-treatment and emission control
Filtration and sedimentation
Homogeneous and Heteregenous Catalysis
Selective catalytic reduction and SCR catalysts
Microfluidics and lab-on-chip devices
Monolithic reactors and catalytic converters
Multicomponent and membrane transport
Packed bed reactors
Pharmaceutical synthesis
Plug-flow reactor design and tubular reactors
Polymerization kinetics and manufacture
Pre-burners and internal combustion engines
Hydrogen Reformers
Semiconductor processing and CVD
---
Material Databases
| File Format | Extension | Read | Write |
| --- | --- | --- | --- |
| CHEMKIN | .dat, .txt, .inp3 | Oui | Non |
| CAPE-OPEN1 (direct connection) | n/a | n/a | n/a |
| LXCAT file2 | .lxcat, .txt | Oui | Non |
1 Requires Chemical Reaction Engineering Module
2 Requires Plasma Module
3 Any file format is allowed, these are the most common extensions

---
Data Resources:
Downloadable Mechanism, Thermodynamic and Transport Files
Modeling Chemical Applications
The application of modeling to chemical engineering is a cost-efficient way to explore new designs of systems and processes. COMSOL has been developing its capabilities with the chemical processes and engineering for over 10 years now. By using modeling, the engineer can achieve the understanding and intuition required for further innovation, and increase efficiency. A main feature of COMSOL is the symbolic and interpreted interfaces that allows you to define whatever you like, such as chemical and electrochemical reactions, or kinetic, thermodynamic, or transport expressions.
Chemical Reaction Engineering Module
Modeling the Electrochemistry of Blood Glucose Test Strips
Stephen Mackintosh
Lifescan Scotland
UK
Lifescan Scotland is a medical device company that designs and manufactures blood glucose monitoring kits for the global diabetes market. These involve the self-monitoring of blood glucose levels through specialized monitoring systems and test strips that comprise of a plastic substrate, two carbon-based electrodes, a thin dry reagent layer, and a ...
Modeling the Electrochemistry of Blood Glucose Test Strips
Modeling the Electrochemistry of Blood Glucose Test Strips
Stephen Mackintosh Lifescan Scotland UK
Lifescan Scotland is a medical device company that designs and manufactures blood glucose monitoring kits for the global diabetes market. These involve the self-monitoring of blood glucose levels through specialized monitoring systems and test strips that comprise of a plastic substrate, two carbon-based electrodes, a thin dry reagent layer, and a ...
Chemical Reaction Engineering Module
Porous Reactor with Injection Needle
This model treats the flow field and species distribution in an experimental reactor for studies of heterogeneous catalysis. The model exemplifies the coupling of free and porous media flow in fixed bed reactors. The reactor consists of a tubular structure with an injection tube that has its main axis perpendicular to the axis of the reactor. ...
Free Convection in Porous Medium
This example treats the modeling of sub-surface flow where free convection in porous media is analyzed. The results are compared with published literature in the field. The model couples the momentum balance to an energy balance through an equation, dependent on temperature, being directly typed into the source term for the momentum balance. ...
Surface Reactions in a Biosensor
A flow cell in a biosensor contains an array of micropillars. The curved side of the pillars are coated with an active material that allows for the selective adsorption of analyte species in the sample stream. The adsorbed species produce a signal that is dependent upon the local concentration at the pillar surfaces. This example investigates the ...
Thermal Decomposition
In this tutorial model, couple heat and mass transport equations to laminar flow in order to model exothermic reactions in parallel plate reactor. It exemplifies how COMSOL Multiphysics allows you to systematically set up and solve increasingly sophisticated models using predefined physics interfaces.
Heat Transfer and Steam Reforming in a Reactor
In fuel cell power generators, a steam reformer unit typically produces the hydrogen needed for the cell stack. This example illustrates the modeling of a steam reformer. The reformation chemistry occurs in a porous catalytic bed where energy is supplied through heating tubes to drive the endothermal reaction system. The reactor is enclosed in ...
Current Density Distribution in a Solid Oxide Fuel Cell, AC Impedance Study
This model presents a study of the current density distribution in a solid oxide fuel cell (SOFC). The model includes the full coupling between the mass balances at the anode and cathode, the momentum balances in the gas channels, the gas flow in the porous electrodes, the balance of the ionic current carried by the oxide ion, and a balance of ...
Chemical Vapor Deposition of GaAs
Chemical vapor deposition (CVD) allows a thin film to be grown on a substrate through molecules and molecular fragments adsorbing and reacting on a surface. This example illustrates the modeling of such a CVD reactor where triethyl-gallium first decomposes, and the reaction products along with arsine (AsH3) adsorb and react on a substrate to form ...
Separation Through Dialysis
Dialysis is frequently used membrane separation process. An important application is hemodialysis, where membranes are used as artificial kidneys for people suffering from renal failure. Other applications include the recovery of caustic colloidal hemicellulose during viscose manufacturing, and the removal of alcohol from beer. In the dialysis ...
NOx Reduction in a Monolithic Reactor
This suite of examples illustrate the modeling of selective NO reduction, that occurs as flue gases pass through the channels of a monolithic reactor in the exhaust system of a motored vehicle. The simulations are aimed at finding the optimal dosing of NH3, the reactant that serves as reducing agent in the process. Three different analyses are ...
Electrokinetic Valve
This model presents an example of pressure driven flow and electrophoresis in a 3D micro channel system. Researchers often use a device similar to the one in this model as an electrokinetic sample injector in biochips to obtain well-defined sample volumes of dissociated acids and salts and to transport these volumes. Focusing is obtained through ...
Porous Reactor with Injection Needle
Free Convection in Porous Medium
Surface Reactions in a Biosensor
Thermal Decomposition
Heat Transfer and Steam Reforming in a Reactor
Current Density Distribution in a Solid Oxide Fuel Cell, AC Impedance Study
Chemical Vapor Deposition of GaAs
Separation Through Dialysis
NOx Reduction in a Monolithic Reactor
Electrokinetic Valve