New Improved Export to COMSOL from Simpleware
COMSOL and Simpleware have been collaborating for some years now. Together we offer a solution for our users to easily and efficiently include their images as geometries or meshes in COMSOL Multiphysics, for them to then be modeled. We asked our colleague at Simpleware, Ingrid Weber, to tell us about what's new in this version that is going to be presented at their upcoming webinar.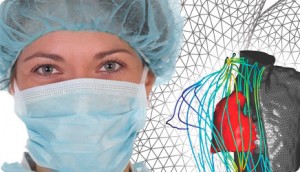 An Improved Link to COMSOL Multiphysics
The new release of v5.0 of ScanIP+FE introduces an improved link to COMSOL Multiphysics. The export is now saved as a COMSOL project file (*.mph) which allows Simpleware to export much more information with the meshed subdomains. So now, material properties, contact surfaces, shell elements and sets of points can all be added to the exported file. The export also supports the transfer of greyscale based material properties for a subdomain where each element is assigned a density and Young's Modulus based on the intensity of the underlying pixel.
To join this webinar visit: Simpleware Webinar
---
---
|
© 2016 by COMSOL Inc. Tous Droits réservés