Alla har vi väl velat bli osynliga vid ett eller annat tillfälle. Som Dagens Nyheter och Ny Teknik nyligen rapporterade om har vi på COMSOL dragit vårt strå till stacken. Forskare använder COMSOL Multiphysics för att simulera och designa avancerade metamaterial. Redan idag finns det högeffektiva antenner och i framtiden går det kanske att skapa akustiska mantlar, båtskrov med lägre vattenmotstånd eller osynlighetsmantlar. Det lär nog dröja ett tag innan en hel människa försvinner in i mörkret bakom en osynlighetsmantel […]
Read more
---
To read the full article visit the article "The inside track on simulation software" webpage.
Read more
---
To read the full article visit the article "The inside track on simulation software" webpage.
Read more
---
The latest issue of Building Simulation, Volume 4, Number 1 / March 2011 , reports on how multiphysics modeling and simulation is being applied to develop and design buildings. Titled "Special issue: Multiphysics Modeling and Its Application in Buildings" this journal features seven papers spanning a variety of application areas. In each paper COMSOL Multiphysics is being used to model the complex processes encountered in building simulation. The Journal is available online and is published by Tsinghua University Press, co-published […]
Read more
---
COMSOL Multiphysics offers direct access to mathematical models utilized in its interfaces and allows users to customize their own theoretical model within COMSOL with unparalleled ease. Here are three video tutorials on how users can add their own Partial Differential Equations (PDEs) within the COMSOL Multiphysics interface.
Read more
---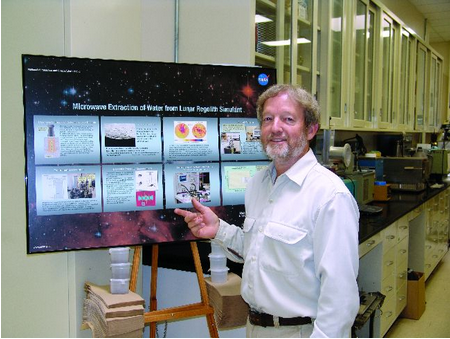 Ed Ethridge of NASA who used COMSOL Multiphysics in his discovery of water on the moon will be a guest speaker for the upcoming webinar Thursday February 10th, 2011 at 2pm EST. During the webinar Ed will present part of his research on cryogenic trapped water just under the surface of lunar soil at the Moon's poles. He will discuss how microwave energy can be used to efficiently extract this water from permafrost and how COMSOL permitted the calculation of […]
Read more
---
Electromagnetic Simulation in COMSOL covers current, fields, and waves. Brief examples include joule heating in a fuse, coupled physics and total inductance in inductors, and electromagnetic waves in a 90 degree h band waveguide. To view the full size video in a Pop-out window link, click here.
Read more
---
Competition sponsored by PTC® (www.ptc.com), COMSOL (www.comsol.com), and Tech Briefs Media (www.techbriefsmedia.com) attracts nearly 1,000 innovative product ideas from engineers and students in 51 countries. New York, NY – A new invention could help millions of manual wheelchair users increase their mobility while decreasing upper body, repetitive stress injuries. Many who suffer from muscle pain, torn rotator cuffs, joint degeneration, and carpal tunnel syndrome due to muscle overuse will benefit from the Rowheel Wheelchair Propulsion System. This innovative design uses […]
Read more
---
Save Lives, Create Jobs, Keep the Earth Green and Win a Grand Prize of $20,000 New York, NY – The eighth "Create the Future" Design Contest (www.createthefuture2010.com) sponsored by PTC, COMSOL and Tech Briefs Media Group opens today and entries will be accepted through June 30, 2010. The contest is an opportunity to receive global recognition and a cash prize of $20,000 for a breakthrough product idea.
Read more
---
As most skilled COMSOL users, I am sure you know that you are not limited to just selecting what is in our drop-down lists. Say that you have invented your own measure of structural stress. You want it to be equal to the quadratic mean of the Tresca and von Mises stresses. Go to Plot Parameters to find out what these predefined stresses are called (tresca_smsld and mises_smsld if you are modeling in 3D with the Structural Mechanics Module). Now […]
Read more
---
Get new posts by email
---
Categories
---
Tags