Will it Blow?
Join our free webinar tomorrow, February 16, on Joule Heating. Hosted together with IEEE Spectrum, COMSOL Support Engineer, Linus Andersson will ask the question: "Will it Blow?"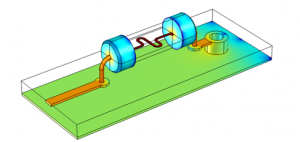 Modeling Joule Heating
Actually, he will give you a great run-through of Joule Heating and how it is best modeled using COMSOL Multiphysics. It will, of course, not only cover straight resistive heating, but will also touch on RF and Microwave Heating as well as the coupled effects that temperature has on resistivity etc.
The fuse you see in the picture will be modeled, and the question will be answered if you join us for our Joule Heating webinar.
---
---
|
© 2017 by COMSOL Inc. Tous Droits réservés