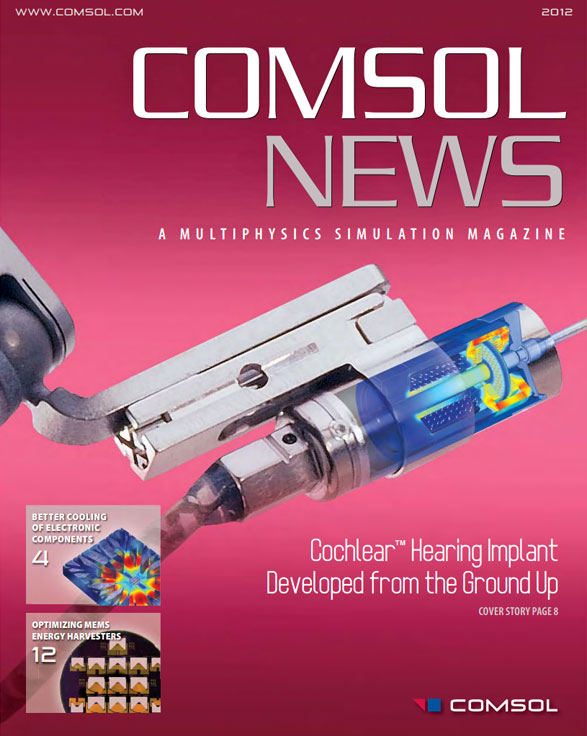 COMSOL News 2012
COMSOL News shows how high-tech organizations are using COMSOL Multiphysics simulation software for product design, research, and development. Articles span many industries and engineering fields. Chances are you will find examples on how COMSOL users solve problems very much like your own. Most articles link to full-length papers, carefully outlining the modeling and simulation work.
Contributors:
ABB AG
Alstom Power Sweden AB
AltaSim Technologies
Centro Ricerche Fiat
Cochlear Technology Centre Belgium
Continuum Blue
Desktop Engineering
DuPont Experimental Station
Esaote S.p.A
Georg-August-University
Intellectual Ventures
JDR Cables
Johnson Screens
Knolls Atomic Power Laboratory
Lahey Clinic
NASA Tech Briefs
Naval Undersea Warfare Center Division Newport
Ruukki Metals Oy
Salzgitter Mannesmann Forschung
Shell Global Solutions UK
Siemens Corporate Technology
SpaceClaim
Toyota Research Institute of North America
University of Duisburg-Essen/Germany's Technical Centre for Ships and - - Naval Weapons
University of Massachusetts Dartmouth, Sunwell Technologies, Inc.
Veryst Engineering LLC, Nordson EFD
Yale University
Zeeko Ltd
Click the button below to read the digital version.


Browse all issues of COMSOL News: