COMSOL Users Feature Heavily in June's IEEE Spectrum
A really exciting project has just been finished here at COMSOL, which was great to be a part of. The next issue of IEEE Spectrum will feature a special insert titled: Multiphysics Simulation. Sponsored by COMSOL, this is a special section that contains nine articles about simulation — a must read for all subscribers to IEEE Spectrum as well as others interested in modeling.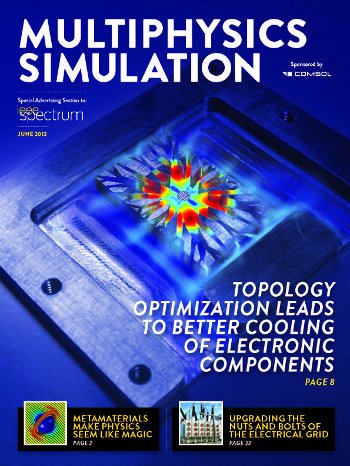 Over the years of reading IEEE Spectrum, I have never seen so much material devoted to simulating electromagnetic and multiphysics applications in one and the same issue. IEEE Spectrum Online Blogger, Dexter Johnson, has contributed articles about metamaterials, the smart power grid, and the treatment of nuclear waste. Other articles concern the cooling of electronic components in hybrid cars, electrical spinal cord stimulation, protecting wind turbines from lightning strikes, MEMS, and electrostatic precipitators.
Due to our close collaboration with IEEE on Multiphysics Simulation, we are able to offer it to our friends and colleagues prior to it being delivered. You can pick up a copy of Multiphysics Simulation here. Keep an eye on this blog too as I will be featuring a number of these stories during the next couple of weeks, and pointing to similar resources to help you with your multiphysics simulations.
---