Structural Mechanics Module
Structural Mechanics Module
Analyses de Mécanique des Structures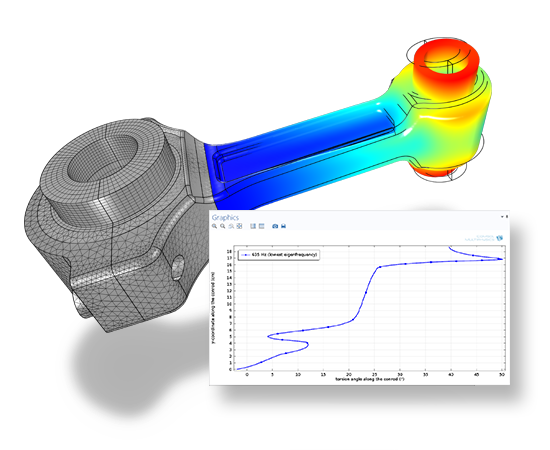 Analyse en fréquence propre d'une bielle montrant l'angle de torsion le long de la bielle à la fréquence propre la plus basse.
Analyse Structurelle Statique, Temporelle et Fréquentielle
Le Structural Mechanics Module permet d'analyser les structures mécaniques soumises à des chargements statiques ou dynamiques. Il se prête à différentes analyses, notamment de type stationnaire, transitoire, en mode propre/modale, paramétrée, quasi-statique, de réponse en fréquence sous chargement harmonique, flambage et pré-contrainte.
Les modules complémentaires enrichissent et affinent les analyses structurelles
Le Structural Mechanics Module propose des interfaces physiques pour les analyses en 2D et 2D axisymétrique, ainsi que les systèmes de coordonnées 3D pour les solides, les coques (3D), les plaques (2D), les treillis (2D, 3D), les membranes (2D axisymétrique, 3D) et poutres (2D, 3D). Ces fonctionnalités permettent d'analyser les grandes déformations dues aux non-linéarités géométriques, au contact mécanique, aux déformations d'origine thermique, aux matériaux piézoélectriques et à l'interaction fluide-structure (FSI). Deux modules complémentaires permettent l'analyse des matériaux non linéaires : le Nonlinear Structural Materials Module et le Geomechanics Module. Le module complémentaire Fatigue Module facilite l'évaluation de la durée de vie en fatigue, tandis que le module complémentaire Multibody Dynamics Module est idéal pour modéliser la cinématique des corps rigides et flexibles. Le Structural Mechanics Module est utilisé conjointement à COMSOL Multiphysics et aux autres modules complémentaires pour coupler l'analyse structurelle à différents phénomènes multiphysiques, comme l'interaction des structures mécaniques avec les champs électromagnétiques, l'écoulement des fluides et les réactions chimiques.
Images Supplémentaires
Modèles Matériaux
Les modèles constitutifs du Structural Mechanics Module incluent les modèles de matériaux suivants : matériaux élastiques linéaires et viscoélastiques, matériaux orthotropes et matériaux avec amortissement. Pour enrichir cet ensemble de modèles, l'utilisateur peut ajouter au Structural Mechanics Module le Nonlinear Structural Materials Module et le Geomechanics Module, qui permettent d'analyser les grandes déformations plastiques sous contrainte, les matériaux hyperélastiques, la plasticité, le fluage, la viscoplasticité, les roches, les bétons et les sols. La définition des lois de comportement matériaux par l'utilisateur est particulièrement simple, grâce aux interfaces de COMSOL basées sur les équations. L'approche classique, qui consiste à faire appel à des sous-programmes en plus du logiciel utilisé, est remplacée par une opération plus simple : les équations constitutives sont entrées directement dans l'interface graphique, sous la forme d'expressions mathématiques au niveau des variables, des invariants de déformation ou de contrainte et des grandeurs dérivées. Par exemple, au lieu d'une constante, le module de Young peut être représenté par une fonction d'une variable et de ses dérivées. Les propriétés matériaux peuvent varier dans l'espace ou le temps. Elles peuvent également être décrites par des expressions à valeur complexe.
Chargements, Contraintes et Outils de Modélisation Spécialisés
Le module offre une vaste gamme de chargements et de contraintes : force totale, chargement en pression, forces suiveuses, ressorts et amortisseurs, masse ajoutée, déplacement imposé, vitesse et accélération. A travers l'interface spécialisée Couche Mince Elastique, l'utilisateur peut modéliser des couches minces élastiques. De plus, les conditions spécialisées de domaine rigide et de frontière rigide sont utiles pour combiner les structures rigides et les structures flexibles grâce aux fonctionnalités du Multibody Dynamics Module. La modélisation d'une petite structure dans ou sur un grand substrat de matériau élastique bénéficie de l'existence de domaine de type élément infini. Parce qu'elle simule un amortissement progressif de la contrainte, cette fonctionnalité permet de simuler sans perte de précision un domaine tronqué, tout en prenant en compte la présence de la grande structure.
Mécanique du Solide
Les interfaces Solid Mechanics du Structural Mechanics Module définissent les grandeurs et les fonctions pour l'analyse des contraintes et la mécanique linéaire et non linéaire générale des solides, afin de résoudre les déplacements. Le modèle matériau par défaut est le modèle matériau élastique linéaire. Deux autres modèles sont proposés : hyperélasticité (exige le Nonlinear Structural Materials Module) et matériau viscoélastique linéaire. Par ailleurs, diverses fonctionnalités peuvent être utilisées pour étendre le modèle matériau (dilatation thermique, amortissement, contrainte et déformation initiales). La définition des déformations inélastiques générales est particulièrement simple, puisqu'il suffit de les entrer sous forme de contributions de déformation initiale supplémentaire, voire de fonctions d'autres champs physiques (de l'électromagnétique à l'écoulement des fluides). La description des matériaux élastiques dans le module inclut les matériaux isotropes, orthotropes et totalement anisotropes. Un coefficient matériau peut être décrit par une constante, des variables, des fonctions d'interpolation à partir de données et des expressions non linéaires variables dans l'espace ou le temps. Puisque COMSOL Multiphysics peut interpréter la moindre expression, l'utilisateur peut effectuer les tâches de modélisation avancée dans l'environnement COMSOL Desktop®, sans une seule ligne de code.
Grandes Déformations et Contact Mécanique
Le Structural Mechanics Module permet de modéliser de grandes déformations dues aux non linéaritéx géométriquex et en prenant en compte les forces suiveuses. Dépendant éventuellement d'autres physiques (comme les forces électromagnétiques ou d'écoulement fluide), les chargements peuvent être distribuées. Le contact mécanique est bien sûr disponible, et extensible à d'autres physiques pour modéliser du contact multiphysique. Par exemple, l'utilisateur peut autoriser des flux de chaleur (avec le Heat Transfer Module) ou des courants électriques (avec le AC/DC Module) sur les frontières en contact, puis faire appel aux contraintes réelles de contact pour simuler courant ou transfert de chaleur lors du contact.

Coques, Plaques et Membranes
Basées sur la formulation de Mindlin-Reissner, les coques sont utilisées pour l'analyse structurelle des structures à faible épaisseur, en prenant en compte les déformations de cisaillement afin de permettre également la simulation des coques plus épaisses. Il est aussi possible d'imposer un décalage dans la direction normale à une surface sélectionnée. L'interface Coque comprend d'autres fonctionalités, dont l'amortissement, la dilatation thermique et la définition des contraintes et déformations initiales. Les études prédéfinies sont les mêmes que pour l'interface Solid Mechanics. A l'instar de l'interface Coque, l'interface Plaque agit sur un simple plan, mais avec des chargements hors du plan uniquement.
A travers l'interface Membrane, il est possible de modéliser des éléments de contraintes planes courbes en 3D, qui permettent des déformations dans le plan et hors du plan. La membrane se différencie de la coque par son absence de rigidité en flexion. Cette interface est idéale pour modéliser les structures telles que les films minces ou les tissus.
Vibrations, Acoustique et Ondes Elastiques
Différentes fonctionnalités sont proposées pour l'analyse de vibration, avec couplage optionnel aux fonctions acoustiques de l'Acoustics Module. Le couplage du Structural Mechanics Module et de l'Acoustics Module met à la disposition de l'utilisateur un outil spécialisé pour les interactions acoustique-coque. L'Acoustics Module propose deux interfaces spécialisées supplémentaires pour les interactions solide-acoustique et piézo-acoustique. Pour les ondes élastiques qui se propagent dans un matériau, le Structural Mechanics Module propose des frontières faiblement réfléchissantes et des couches parfaitement absorbantes (PML), dans lesquelles les ondes élastiques sortantes sont simulées comme étant absorbées. Cette fonctionnalité facilite la modélisation des ondes qui se propagent vers l'extérieur depuis une structure vibrante en milieu relativement grand ou infini.
Evaluation de la Fatigue
L'ajout du Fatigue Module aux analyses mécaniques structurelles permet de calculer la durée de vie en fatigue structurelle. Sont disponibles : les régimes de fatigue à haut et à bas cycle et l'analyse de dommage cumulé. Le Fatigue Module étant étroitement couplé au Structural Mechanics Module, l'utilisateur peut effectuer des simulations de mécanique structurelle et des calculs de fatigue dans l'environnement COMSOL Desktop®. Le Fatigue Module peut être utilisé avec les interfaces Mécaique du Solide, Coque, Plaque et Dynamique Multicorps, ainsi qu'avec les interfaces spécialisées qui simulent les contraintes thermiques, l'effet Joule avec dilatation thermique et les dispositifs piézoélectriques.
Poutres et Treillis
Dans le Structural Mechanics Module, les éléments de poutres sont destinés à l'analyse des structures fines (poutres) qui peuvent être totalement décrites à l'aide des propriétés de section transversale, comme les surfaces et les moments d'inertie. Ils simulent les structures de châssis, aussi bien planes qu'en 3D, et ils peuvent être couplés avec d'autres types d'éléments, notamment pour l'analyse du renforcement par des structures de type solide ou coque. L'interface spécialisée pour les poutres inclut une bibliothèque pour les sections : rectangle, parallélépipède, cercle, conduite, profil en H, profil en U et profil en T. Les fonctionnalités supplémentaires incluent : amortissement, dilatation thermique, contraintes et déformations initiales. A travers une interface en 2D distincte (Sections de poutre), il est possible d'évaluer les propriétés de section pour les sections 2D arbitraires à utiliser comme entrées dans les analyses de poutre.
A travers l'interface Treillis, il est possible de modéliser les structures fines soumises à des forces axiales uniquement. Les treillis permettent de spécifier les petites contraintes et les grandes déformations. Parmi les exemples de structures en treillis figurent les éléments de treillis dont les arêtes et câbles droits sont soumis aux forces de gravité (câbles détendus). Les fonctionnalités supplémentaires incluent amortissement, dilatation thermique, contraintes et déformations initiales.
Contraintes Thermiques
Utilisé conjointement à COMSOL Multiphysics, le Structural Mechanics Module peut être intégré à d'autres modules complémentaires pour modéliser diverses applications multiphysiques. Il propose plusieurs interfaces multiphysiques spécialisées. Par exemple, l'interface Contraintes Thermiques est similaire à l'interface Mécanique du Solide, avec en plus un modèle matériau élastique linéaire thermique. Elle peut être utilisée conjointement avec les différentes interfaces de transfert de chaleur pour coupler le champ de température à la dilatation d'une structure (matériau). Associant la thermodilatation au chauffage par effet Joule, l'interface spécialisée Contraintes Thermiques avec Chauffage par Effet Joule décrit la conduction du courant électrique dans une structure, l'échauffement d'origine électrique provoqué par les pertes ohmiques dans la structure et les contraintes thermiques induites par le champ de température.
Fonctionnalités Supplémentaires pour la Modélisation Mécanique dans les Autres Modules
Le MEMS Module offre des outils spécialisés pour les simulations structurelles caractéristiques des systèmes micromécaniques. Il propose plusieurs interfaces spécialisées pour la piézorésistivité, la déviation électromécanique, les vibrations thermoélastiques, ainsi que des outils de modélisation avancés pour l'analyse des dispositifs piézoélectriques. Du point de vue de l'analyse mécanique, l'Acoustics Module couvre la vibration structurelle, en combinant ondes de pression acoustique et la propagation des ondes élastiques et poro-élastiques. Le Subsurface Flow Module ajoute aux interfaces spécialisées pour la mécanique des solides la poro-élasticité avec l'écoulement en milieu poreux.
CAO et Optimisation
Le CAD Import Module importe les formats CAO les plus courants et fournit les outils de simplification et de réparation qui préparent au mieux les géométries CAO au maillage et à l'analyse. Basé sur le moteur géométrique Parasolid®, le CAD Import Module supporte des opérations sur les solides plus avancées que le moteur COMSOL natif. Avec le ECAD Import Module, les ingénieurs peuvent importer la topologie de leurs composants électroniques pour effectuer la simulation mécanique des structures électroniques. Pour analyser une pièce ou un assemblage mécanique, l'important est de conserver le modèle paramétrée CAO natif, ce qui évite de redéfinir les paramètres de la géométrie pour les étudier et les optimiser. Cette fonctionnalité est disponible avec les produits LiveLink™, des interfaces de dialogue entre COMSOL et les logiciels CAO les plus utilisés : SolidWorks®, SpaceClaim®, Inventor®, AutoCAD®, PTC® Creo Parametric®, Pro/ENGINEER® et Solid Edge®. Ces produits offrent la mise à jour simultanée des paramètres de géométrie dans le logiciel CAO et dans COMSOL, et ils permettent d'appliquer des analyses paramétrées et l'optimisation de plusieurs paramètres. Le couplage avec l'Optimization Module rend possible l'optimisation automatisée pour les dimensions géométriques, les chargements sur frontière ou les propriétés matériaux.
Dispositifs Piézoélectriques
L'interface Dispositifs Piézo-électriques combine les fonctionnalités de modélisation des interfaces Mécanique du Solide et Electrostatique de COMSOL afin d'offrir un outil complet pour la modélisation des matériaux piézoélectriques. Le couplage piézoélectrique peut être lié par une relation contraintes-chargement ou déformations-chargement au calcul de balayage en fréquence, des modes propres et des analyses transitoires. Les fonctionnalités de la mécanique du solide et de l'électrostatique sont accessibles à travers cette interface spécialisée, qui permet notamment de modéliser l'environnement solide (élastique linéaire) ou fluide (air par exemple), ou bien des couches diélectriques.
Interaction Fluide-Structure (FSI)
L'interface multiphysique Interaction Fluide-Structure (FSI) combine l'écoulement des fluides et la mécanique des solides pour simuler l'interaction entre un fluide et une structure solide. Les interfaces Mécanique du Solide et Ecoulement Laminaire permettent de modéliser respectivement les solides et les fluides. Les couplages FSI interviennent sur les frontières entre les fluides et les solides, et incluent la pression des fluides et les forces visqueuses, de même que le transfert de quantité de mouvement des solides vers les fluides (FSI en couplage fort). La formulation Euler-Lagrange Arbitraire (ALE) est utilisée pour simuler la FSI.
Structural Mechanics Module
Product Features
Acoustic-structure interaction 1
Beams
Biomechanics
Buckling and postbuckling
Contact analysis
Fatigue evaluation 2
Fluid-structure interaction (FSI)
Geometric nonlinearity
Large deformation
Lubrication and elastohydrodynamics 3
Membranes
Modal analysis
Multibody dynamics 4
Nonlinear materials 5
Piezoelectric devices
Poroelasticity 6
Prestressed structures
Rotordynamics
Shells
Solids
Stress-optical effects
Structural contact and friction
Structural optimization 7
Structural vibrations
Thermal stress
Trusses
---
1Together with the Acoustics Module
2Together with the Fatigue Module
3Together with the CFD Module
4Together with the Multibody Dynamics Module
5Together with the Nonlinear Structural Materials Module and the Geomechanics Module
6Together with the Subsurface Flow Module
7Together with the Optimization Module
Modeling Mechanical Applications in COMSOL Multiphysics
COMSOL Multiphysics is the ideal solution for exploring the interaction between structural mechanics and other physics, such as fluid-structure interaction (FSI), acoustics and electromechanics. This is largely because COMSOL uses the industry standard finite element method, expanded for present day multiphysics requirements. Watch the video to learn more about modeling mechanical applications.
Structural Mechanics Module
Sonar Dome Vibration Analysis
Francesca Magionesi
INSEAN
Italy
There has been a recent move towards utilizing bulbous bows on ships to house different types of sonar systems, but it is not definite how much structural vibration might interfere with the functioning of a transducer array inside the sonar dome. INSEAN, the National Institute for Studies and Experiments of Naval Architecture in Italy, needed a ...
Analysis of Subsea Umbilicals and Cables
Tim Poole, JDR Cables, Cambridgeshire, UK
and
Mark Yeoman, Continuum Blue, Hengoed, UK
JDR Cables designs-to-spec and manufactures subsea umbilical systems of cables and reelers for the oil and gas and renewable energy industries. In these designs, the harsh environments of deep water pressure, wind and waves, as well as the rough ocean floor must all be considered, along with the forces acting on cables from being pulled and ...
Simulation-Based Design of New Implantable Hearing Device
Patrik Kennes
Cochlear Technology Centre, Mechelen, Belgium


Cochlear Technology Centre Europe (CTCE) develops new technology for hearing implants. Their current work is with a new type of hearing implant, a Direct Acoustic Cochlear Implant called CodacsTM. This product imposes structural, pressure waves directly to the cochlea, stimulating it this way, as opposed to amplifying sound. Using COMSOL ...
Multiphysics Analysis of CO2 Foil Thrust Bearing Characteristics
Treevor Munroe
Knolls Atomic Power Laboratory, Niskayuna, NY

Knolls Atomic Power Laboratory (KAPL) is a research and development facility supporting the United States Naval Nuclear Propulsion Program. KAPL recently collaborated with Bettis Atomic Power Laboratory to test a supercritical carbon dioxide (S-CO2) Brayton power cycle system. The system was designed to operate at high speed and high gas ...
Simulation-Based Engineering Fosters Innovation and Invention
Ozgur Yildirim and Zihong Guo
Intellectual Ventures
Bellevue, WA
Simulation-based engineering is the key to shortening time to market for innovations. Intellectual Ventures, in Bellevue, WA, is reaping the benefits of using COMSOL Multiphysics to accelerate their workflow from design study to prototype, and then on to their customers as inventions through various partnerships and licensing programs. Projects ...
Pushing the Limits of Chip Density
Derek Bassett and Michael Carcasi
Tokyo Electron America
Austin, TX
Chip manufacturers have been adhering to Moore's law, a law stating that the number of transistors that can be economically placed on an integrated circuit doubles every year, since 1965. As the number of transistors increases, however, the process of manufacturing integrated circuit, called photolithography, becomes more difficult. Each device ...
Sonar Dome Vibration Analysis
Analysis of Subsea Umbilicals and Cables
Simulation-Based Design of New Implantable Hearing Device
Multiphysics Analysis of CO2 Foil Thrust Bearing Characteristics
Simulation-Based Engineering Fosters Innovation and Invention
Pushing the Limits of Chip Density
Structural Mechanics Module
Hyperelastic Seal
In this model you study the force-deflection relation of a car door seal made from a soft rubber material. The model uses a hyperelastic material model together with formulations that can account for the large deformations and contact conditions.
Composite Piezoelectric Transducer
This example shows how to set up a piezoelectric transducer problem following the work of Y. Kagawa and T. Yamabuchi. The composite piezoelectric ultrasonic transducer has a cylindrical geometry that consists of a piezoceramic layer, two aluminum layers, and two adhesive layers. The system applies an AC potential on the electrode surfaces of both ...
Peristaltic Pump
In a peristaltic pump, rotating rollers squeeze a flexible tube. As the rollers move along the tube, the fluid in the tube follows the motion. The main advantage of the peristaltic pump is that no seals, valves or other internal parts ever touch the fluid. Due to their cleanliness, peristaltic pumps have found many applications in the ...
Piezoelectric Shear-Actuated Beam
The model performs a static analysis on a piezoelectric actuator based on the movement of a cantilever beam, using the Piezoelectric Devices predefined multiphysics interface. Inspired by work done by V. Piefort and A. Benjeddou, it models a sandwich beam using the shear mode of the piezoelectric material to deflect the tip.
Fluid-Structure Interaction in a Network of Blood Vessels
This model refers to a portion of the vascular system of a young child - the upper part of the aorta artery. The blood vessels are embedded in a biological tissue (the cardiac muscle) and, during the flow of blood, pressure is applied to the internal surfaces producing deformation of the vessel walls. The complete analysis consists of two ...
Thickness Shear Mode Quartz Oscillator
AT cut quartz crystals are widely employed in a range of applications, from oscillators to microbalances. One of the important properties of the AT cut is that the resonant frequency of the crystal is temperature independent to first order. This is desirable in both mass sensing and timing applications. AT cut crystals vibrate in the thickness ...
Heating Circuit
Small heating circuits find use in many applications. For example, in manufacturing processes they heat up reactive fluids. The device used consists of an electrically resistive layer deposited on a glass plate. The layer causes Joule heating when a voltage is applied to the circuit. The layer's properties determine the amount of heat ...
Snap Hook
This model simulates the insertion of a snap hook in its groove. Fasteners like this are common in the automotive industry, for example, in the control panel of a car. In this case it is important to know the force that must be applied in order to place the hook in the slot but also the force needed to remove it. From a numerical point of view, ...
Thermal Stresses in a Layered Plate
The thermal stress in a layered plate is studied in this example. A plate consisting of two layers, a coating and a substrate layer is stress and strain free at 800 degrees C. The temperature of the plate is reduced to 150 degrees C and thermal stresses are induced. A third layer, the carrier layer, is added and the thermal stresses in the coating ...
SAW Gas Sensor
A surface acoustic wave (SAW) is an acoustic wave propagating along the surface of a solid material. Its amplitude decays rapidly, often exponentially, through the depth of the material. SAWs are utilized in many kinds of electronic components, including filters, oscillators, and sensors. SAW devices typically apply electrodes to a ...
Hyperelastic Seal
Composite Piezoelectric Transducer
Peristaltic Pump
Piezoelectric Shear-Actuated Beam
Fluid-Structure Interaction in a Network of Blood Vessels
Thickness Shear Mode Quartz Oscillator
Heating Circuit
Snap Hook
Thermal Stresses in a Layered Plate
SAW Gas Sensor