Acoustics Module
Logiciel Pour l'Acoustique et l'Analyse des Vibrations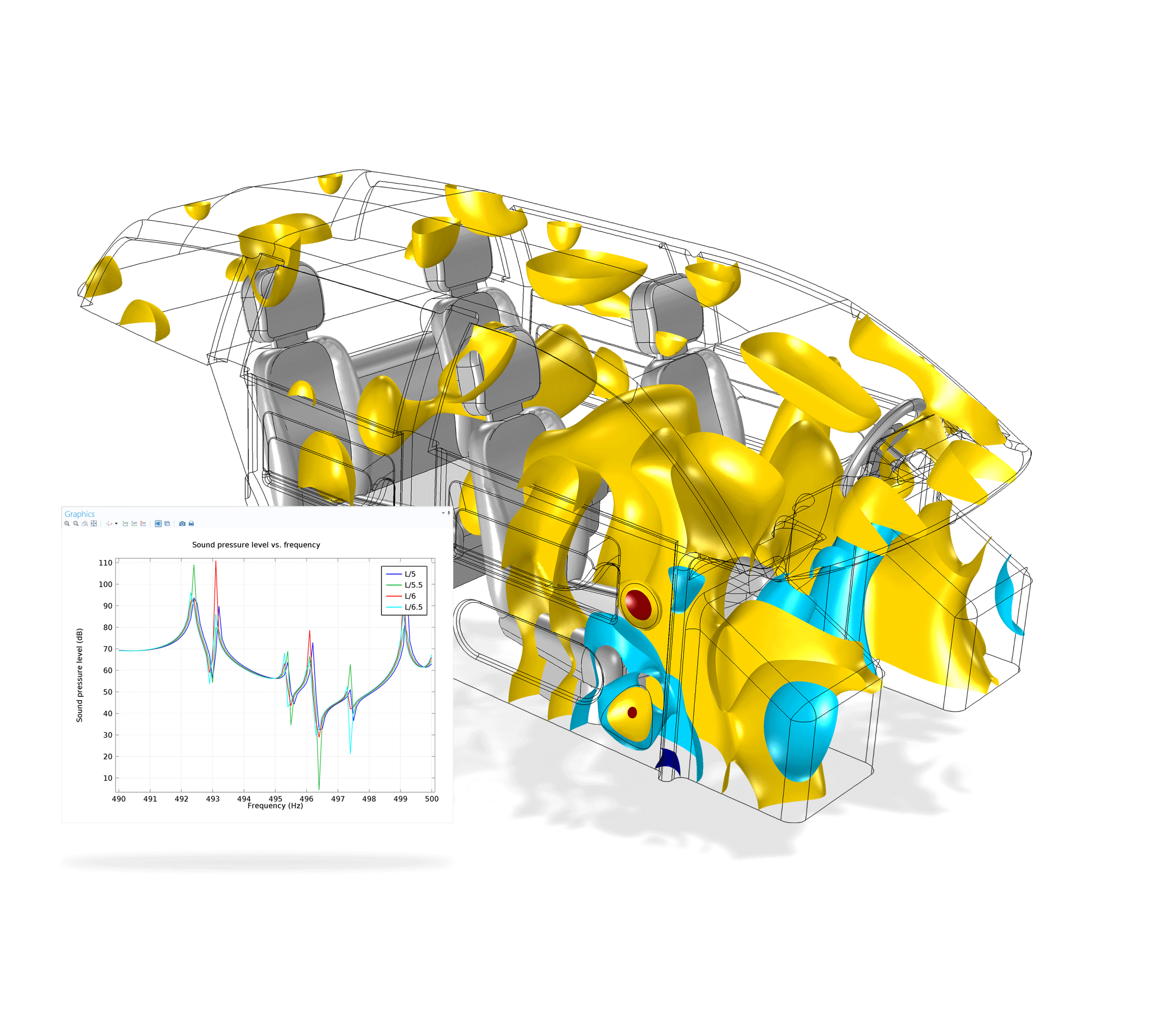 Acoustique et Analyse de Vibration à un Nouveau Niveau
L'Acoustics Module est conçu spécifiquement pour tous ceux qui travaillent avec des dispositifs de production, de mesure et d'utilisation des ondes acoustiques. Les domaines d'application incluent notamment les haut-parleurs, microphones, prothèses auditives et sonars. Le contrôle du bruit peut être étudié dans divers contextes : conception de silencieux, mur du son et applications acoustiques dans les bâtiments.
Une Compréhension Fine de vos Produits
Les interfaces graphiques fournissent les outils qui permettent de simuler la propagation des ondes de pression acoustique dans l'air, l'eau et autres fluides. Des outils de modélisation dédiés pour la thermoacoustique rendent possible la simulation précise des haut-parleurs et microphones miniaturisés dans les portables. L'utilisateur peut en outre simuler les vibrations et les ondes élastiques dans les solides, les matériaux piézoélectriques et les structures poro-élastiques. Les interfaces spécialisées pour les interactions acoustique-solide, acoustique-coque et acoustique-piézoélectrique renforcent les capacités de prédiction des simulations acoustiques.
L'utilisation de simulations réalistes en 1D, 2D ou 3D permet d'optimiser des produits existants et d'accélérer la conception de nouveaux produits. Utiles pour les concepteurs, chercheurs et ingénieurs, les simulations les aident à mieux appréhender les problèmes dont la prise en compte expérimentale est particulièrement ardue. La possibilité de tester un design avant le stade de la production permet aux entreprises de gagner du temps et de l'argent.
---
Images supplémentaires
Modélisation d'Applications Variées en Acoustique
Pour simuler la propagation du son dans les fluides et les solides, l'Acoustics Module propose une série d'interfaces physiques organisées comme suit : pression acoustique, interaction acoustique-structure, aéroacoustique et thermoacoustique.
Les interfaces spécialisées pour les simulations acoustiques basées sur la pression acoustique sont idéales pour la simulation des problèmes les plus courants, tels que diffusion, diffraction, émission, rayonnement et transmission du son. Ces problèmes concernent notamment la conception des silencieux ; la construction de haut-parleurs ; l'isolation sonore pour absorbeurs et diffuseurs ; l'évaluation des motifs acoustiques en fonction de la direction, comme le rayonnement lié au bruit. Les interfaces spécialisées pour l'interaction acoustique-structure permettent de simuler les problèmes relatifs aux ondes élastiques dans les structures, au bruit dans les fluides et à leurs interactions. Par exemple, l'interaction acoustique-structure est utilisée pour la conception détaillée de silencieux, d'actionneurs piézoélectriques à ultrasons, de sonar ou d'analyse des bruits et de vibration des machines dans l'industrie automobile. Les fonctionnalités de COMSOL Multiphysics rendent possibles l'analyse et la conception des transducteurs électroacoustiques, comme des haut-parleurs, des capteurs, des microphones et des récepteurs.
Les interfaces spécialisées pour l'aéroacoustique servent à simuler l'interaction entre un écoulement externe et un champ acoustique (bruit lié au fluide). Les applications sont multiples, de l'analyse du bruit dans les moteurs à réaction à la simulation des capteurs aéroliques. Les interfaces spécialisées pour la thermoacoustique sont idéales pour simuler avec une grande précision les systèmes de petites dimensions géométriques, avec des applications dans le domaine des téléphones portables et des prothèses auditives, des dispositifs MEMS et de la conception de transducteurs.
Multiphysics Couplings
Completely integrated in the COMSOL Multiphysics® environment, the Acoustics Module can be combined with other modules for a wider range of multiphysics simulations. Such is the case for the multiphysics interfaces for acoustic-shell interaction and thermoviscous acoustic-shell interaction, which are available when combining the Acoustics Module with the Structural Mechanics Module. Similarly, physics interfaces for pipe acoustics are available when combining the Acoustics Module with the Pipe Flow Module.
Multiphysics couplings and predefined multiphysics interfaces are set up in COMSOL Multiphysics by introducing a Multiphysics node. For example, coupling the physics describing pressure acoustics in a fluid domain to the physics describing structural mechanics in a surrounding solid is achieved in COMSOL Multiphysics by adding an Acoustics interface and a Solid Mechanics interface separately and then coupling them at the boundary using the relevant coupling under the multiphysics node. This functionality makes it possible to decouple or one-way couple the two contributing physics, as well as giving full control over all functionalities in the Acoustics and Solid Mechanics interfaces.
Among the many multiphysics couplings available are the Acoustic-Structure Boundary, the Aeroacoustic-Structure Boundary, and the Thermoviscous Acoustic-Structure Boundary multiphysics interfaces. These all couple a fluid domain to a structure that includes a solid, an external or internal shell, or a membrane. Also available are the Acoustic-Thermoviscous Acoustic Boundary, Acoustic-Porous Boundary, and Porous-Structure Boundary multiphysics interfaces, while the Piezoelectric Effect multiphysics interface connects a Solid Mechanics interface and an Electrostatics interface for modeling piezoelectric materials. All multiphysics models are fully coupled by default, while one-way coupling and dissociating the couplings can be achieved by manipulating the Multiphysics node.
Une Méthode de Travail Continue
L'Acoustics Module utilise la même méthode de travail que les autres modules de la suite de produits COMSOL. La modélisation inclut les étapes suivantes, accessibles à partir du COMSOL Desktop® : définition de la géométrie, sélection des matériaux, sélection de l'interface spécialisée appropriée, définition des conditions limites et initiales, création automatique du maillage, résolution et visualisation des résultats. Une série de couplages prédéfinis offre toute latitude pour associer les simulations de l'Acoustics Module aux autres produits COMSOL. Il est par exemple possible d'effectuer un couplage avec le Structural Mechanics Module pour l'Interaction Acoustique-Coque, ou de choisir un couplage personnalisé. L'Acoustics Module peut être couplé à l'Optimization Module pour optimiser les dimensions géométriques ou la transmission acoustique.
Connecter l'Acoustics Module avec les Logiciels CAO, MATLAB® et Excel®
Pour les tâches de modélisation répétées, LiveLink™ for MATLAB® permet de réaliser des simulations COMSOL avec des scripts ou des fonctions MATLAB®. Toute opération disponible dans le COMSOL Desktop® est aussi accessible en utilisant les commandes MATLAB. Vous pouvez également intégrer les commandes COMSOL dans l'environnement MATLAB en utilisant votre code MATLAB existant. Pour les simulations acoustiques exploitées à partir de feuilles de calcul, LiveLink™ for Excel® représente une alternative pratique à la modélisation à partir du COMSOL Desktop® avec la synchronisation des données de feuilles de calcul sur la base des paramètres définis dans l'environnement COMSOL. L'utilisation conjointe du CAD Import Module et des interfaces bidirectionnelles LiveLink™ pour les logiciels CAO de premier plan facilite les simulations acoustiques basées sur les modèles CAO. Les interfaces bidirectionnelles LiveLink™ permettent de garder intact dans son environnement d'origine le modèle CAO paramétré, tout en contrôlant les dimensions géométriques de l'intérieur du modèle COMSOL Multiphysics. Le couplage entre les modèles acoustiques et les logiciels CAO rend possible l'exécution d'analyse paramétrées simultanés sur plusieurs paramètres du modèle
Une Modélisation Acoustique Robuste et Souple
Les équations de l'Acoustics Module sont résolues en utilisant la méthode par éléments finis avec une discrétisation d'ordre élevé et des solveurs à la pointe de la technologie. Les différentes formulations couvrent les analyses fréquentielles et temporelles. Les résultats sont présentés dans la fenêtre graphique sous forme de graphiques prédéfinis des champs acoustiques, des niveaux de pression acoustique, des contraintes et des déformations ou sous forme d'expressions de grandeurs physiques que vous pouvez définir librement, ainsi que de tableaux de quantités dérivées.
Toutes les Simulations, avec les Pertes Acoustiques
L'Acoustics Module est fourni avec une bibliothèque exhaustive de modèles qui propose de nombreux exemples d'applications (par exemple matière absorbante pour l'isolation sonore, haut-parleurs, microphones et silencieux). La plupart de ces modèles montrent la prise en compte des pertes acoustiques. Les modèles de perte disponibles dans l'Acoustics Module vont des modèles empiriques de fluide équivalent pour les matériaux fibreux (pour lesquels la théorie de Biot est résolue dans l'interface Ondes Poroélastiques) à un modèle complet de pertes thermiques et visqueuses à travers l'interface Thermoacoustique.
Des Interfaces Spécialisées Faciles à Utiliser pour l'Analyse Acoustique
Pression Acoustique
Les interfaces spécialisées Pression Acoustique servent à décrire et résoudre la propagation du son par le biais d'un champ scalaire de pression acoustique. Le champ de pression acoustique représente les variations acoustiques (ou surpression) en fonction de la pression stationnaire ambiante. En l'absence d'écoulement, la pression ambiante correspond à la pression absolue statique. Les interfaces spécialisées proposent de résoudre dans le domaine fréquentiel (résolution de l'équation de Helmholtz) ou en transitoire (résolution de l'équation d'onde classique). En partant du principe que seul un ensemble fini de formes (modes) peut assurer la propagation sur de longues distances, une interface spécialisée pour le mode acoustique de frontière permet d'étudier les modes de propagation dans les guides d'ondes et les conduites.
Le module offre une vaste gamme de conditions limites, telles que mur rigide et conditions d'impédance, de rayonnement, de symétrie et des conditions périodiques pour la modélisation des frontières ouvertes, et de conditions pour l'application de sources. Les interfaces proposent également plusieurs modèles de fluide équivalent, qui reproduisent le comportement de la propagation du son dans un milieu complexe (matériaux poreux, matériaux fibreux, fluides visqueux et fluides conducteurs thermiques). Par ailleurs, les couches parfaitement absorbantes (PML) servent à tronquer le domaine de calcul en absorbant les ondes acoustiques sortantes, reproduisant dans ce cas un domaine étendu à l'infini. Enfin, une fonctionnalité de champ lointain permet de déterminer la pression en dehors du domaine de calcul. Les outils graphiques dédiés et les fonctionnalités d'analyse permettent de visualiser le champ lointain à l'aide de graphiques polaires en 2D et 3D.
Interaction Acoustique-Structure
Les interfaces Acoustic-Structure Interaction traitent, du côté de la frontière fluide-solide, la pression du fluide qui s'exerce sur le domaine solide et de l'autre, l'accélération mécanique qui agit sur le domaine fluide. Les interfaces couvrent les interactions acoustique-solide, acoustique-coque et acoustique-piézoélectrique, dans les domaines fréquentiel et temporel et dans les modèles de géométrie 3D, 2D et 2D axisymétrique. Le couplage entre l'Acoustics Module et le Structural Mechanics Module rend possible l'accès aux interfaces pour les coques qui offrent des fonctionnalités de modélisation structurelle plus avancées. Simulant avec une grande précision l'interaction acoustique-structure, l'interface Acoustic-Piezoelectric Interaction permet également la résolution et la simulation du champ électrique dans un matériau piézoélectrique. Le couplage avec l'AC/DC Module ou le MEMS Module permet également de simuler conjointement les simulations piézoélectriques et les circuits SPICE. Cette fonctionnalité est particulièrement utile lorsque certaines parties d'un transducteur sont décrites à l'aide de modèles réduits, les autres parties du transducteur faisant l'objet d'une simulation par éléments finis. Un couplage fort est appliqué.
Les interfaces Acoustique en Conduite (proposées par le Pipe Flow Module) permettent de modéliser en 1D la propagation des ondes sonores dans les systèmes de conduite flexibles. Les équations sont formulées de façon générique, afin d'inclure les effets de la compliance des parois de conduite avec possibilité d'écoulement amont stationnaire. L'interface Ondes Elastiques permet d'étudier les effets des ondes de cisaillement et des ondes de pression dans les solides. L'interface Ondes Poroélastiques simule avec une grande précision la propagation du son dans un matériau poreux avec, notamment, le couplage bidirectionnel entre la déformation de la matrice solide et les ondes de pression dans le fluide saturant, conformément à la théorie de Biot.
Geometrical Acoustics
The Geometrical Acoustics branch includes the Ray Acoustics and the Acoustic Diffusion Equation physics interfaces. The physics in both interfaces are valid in the high-frequency limit where the acoustic wavelength is smaller than the characteristic geometric features. This is at frequencies above the Schroeder frequency for rooms. Both interfaces are suited for modeling acoustics in rooms and buildings like concert halls. The Acoustic Diffusion Equation is restricted to indoor applications whereas the Ray Acoustics interface can be used, for example, in ocean acoustics and atmosphere acoustics. The acoustic properties at boundaries are included through different models for the absorption.
The Ray Acoustics physics interface is used to compute the trajectories, phase, and intensity of acoustic rays. Ray acoustics is valid in the high-frequency limit where the acoustic wavelength is smaller than the characteristic geometric features. The interface can be used to model acoustics in rooms, concert halls, schools, office buildings, and many outdoor environments. The properties of the media in which the rays propagate can change continuously within domains (graded media) or discontinuously at boundaries. At exterior boundaries, it is possible to assign a variety of wall conditions, including combinations of specular and diffuse reflection. Impedance and absorption can depend on the frequency, intensity, and direction of incident rays. Transmission and reflection are also modeled at material discontinuities. A background velocity may also be assigned to any medium.
The Acoustic Diffusion Equation interface solves a diffusion equation for the acoustic energy density. It is applicable for high-frequency acoustics where the acoustic fields are diffuse. The diffusion properties are dependent on both the room geometry and absorption properties of walls, room fittings (uses average volumetric absorption based on average cross-section and attenuation), and volumetric attenuation (viscous and thermal in large volumes only). The interface is well suited for quick assessment of sound pressure level distribution inside buildings and other large structures.
The Acoustic Diffusion Equation interface can be used to determine the reverberation times at different locations. This can be done either by performing a transient analysis and looking at the energy decay curve, or by performing an eigenvalue analysis. Inputs for all sources, absorption parameters, and transmission losses can be determined using one of the bands, provided in the module. Using these input types and a parametric sweep over the studied band, the user can easily plot and analyze the model results to express results in these bands.
Aéroacoustique
Idéalement, les simulations en aéroacoustique (ACA pour Computational Aeroacoustics) implique la résolution des équations compressibles complètes de Navier-Stokes en temporel. Les ondes de pression acoustique constituent alors une partie de cette solution. Cette approche est souvent irréaliste pour des applications standards du fait du coût de calcul très élevé, du temps de calcul et des ressources mémoires nécessaires. A la place, une solution pratique est une approche en 2 étapes, qui résout d'abord l'écoulement fluide moyen, puis les perturbations acoustiques. Cette approche très importante d'un écoulement moyen, auquel on ajoute un champ acoustique est connu sous le nom de son du liquide.
Les interfaces physiques Linearized Euler sont les outils le plus utiles de l'Acoustics Module pour la simulation du son produit par un écoulement. Les équations d'Euler linéarisées permettent de calculer les variations acoustiques de la pression, du champ de vitesse et de la densité d'un écoulement moyen. Les interfaces résolvent les équations d'Euler linéarisées, de concert avec la conservation de l'énergie, et en considérant l'écoulement moyen d'un gaz idéal ou considéré comme tel, sans pertes d'origine thermiques ou visqueuses. Ces interfaces sont disponibles pour des analyses temporelles, dans le domaine fréquentiel et en analyse de valeurs propres. En aéroacoustique, les applications concernent la propagation du bruit d'un réacteur, l'atténuation d'un silencieux pour un écoulement non-isotherme, ou encore l'étude d'un capteur de vitesse d'un gaz. C'est dans de telles circonstances qu'un écoulement moyen d'un gaz influence la propagation des ondes acoustiques dans un fluide.
Pour une interaction simplifiée dans un sens, avec une formulation basée sur un écoulement potentiel, l'interface physique Linearized Potential Flow est aussi disponible en analyse temporelle et dans le domaine fréquentiel. L'interface physique Compressible Potential Flow simule l'écoulement moyen d'un fluide parfait, compressible et irrotationnel. L'interface physique Boundary Mode Aeroacoustics permet d'analyser les modes acoustiques de frontière dans un écoulement moyen, par exemple pour définir des sources sonores en entrée.
Thermoacoustique
L'Acoustics Module fournit des fonctionnalités de modélisation à la pointe de la technologie pour la thermoacoustique (aussi appelée acoustique viscothermique ou thermovisqueuse), qui est indispensable à la simulation précise de l'acoustique dans les géométries de petites dimensions. A proximité des parois, la création d'une couche limite visqueuse et thermique augmente la viscosité et la conduction thermique, entraînant des pertes importantes. Il devient donc nécessaire d'inclure explicitement les effets des conductions thermiques et les pertes visqueuses dans les équations principales. Les interfaces spécialisées pour la thermoacoustique permettent de résoudre la série complète des équations d'écoulement compressible linéarisé (combinaison des équations de Navier-Stokes linéarisées, de continuité et d'énergie). Puisqu'une description détaillée est nécessaire pour modéliser la thermoacoustique, il est possible, à travers les interfaces spécialisées, de résoudre simultanément la pression acoustique, le vecteur de vitesse des particules et la variation de température acoustique.
Dans l'interface physique Thermoacoustique, les équations principales sont mises en œuvre en formulation harmonique et résolues dans le domaine fréquentiel. Les conditions aux limites peuvent être mécaniques et thermiques. Par ailleurs, l'utilisation des conditions aux limites prédéfinies permet de coupler très simplement le domaine thermoacoustique à un domaine de pression acoustique. L'interface Interaction Thermoacoustique-Solide facilite la résolution du couplage vibro-acoustique. Il permet, par exemple, de modéliser de petits transducteurs électroacoustiques ou l'amortissement dans les dispositifs MEMS. Des conditions limites prédéfinies sont présentes entre les domaines solides et fluides. L'interface Interaction Thermoacoustique -Coque permet de modéliser l'interaction entre des coques et l'acoustique dans les dispositifs de petites dimensions. Elle est utilisée pour analyser les vibrations amorties des coques dans les prothèses auditives, afin d'éviter les problèmes de réaction acoustique (effet Larsen).
Ultrasound
The Ultrasound interfaces are used to compute the transient propagation of acoustic waves over large distances, relative to the wavelengths. Acoustic disturbances with frequencies that are not audible for humans are classified as ultrasound. This implies that ultrasonic waves have a short wavelength. The interfaces under the Ultrasound branch are, however, not restricted to high-frequency propagation, but can, in general, be applied to any acoustically large problem.
The Convected Wave Equation, Time Explicit interface is used to solve large transient linear acoustic problems containing many wavelengths in a stationary background flow. It is suited for time-dependent simulations with arbitrary time-dependent sources and fields. In general, the interface is suited for modeling the propagation of acoustic signals over large distances relative to the wavelength, for example, linear ultrasound problems. The interface includes absorbing layers that are used to set up effective nonreflecting like boundary conditions. The interface is based on the discontinuous Galerkin method and uses a time-explicit solver. The method is very memory lean. Application areas include ultrasound flow meters and other ultrasound sensors where time of flight is an important parameter. The applications are not restricted to ultrasound, but also include, for example, transient propagation of audio pulses in room acoustics or car cabins.