LiveLink™ for PTC® Creo® Parametric™
LiveLink™ for PTC® Creo® Parametric™
Intégrez vos Simulations aux CAO 3D de PTC® Creo® Parametric™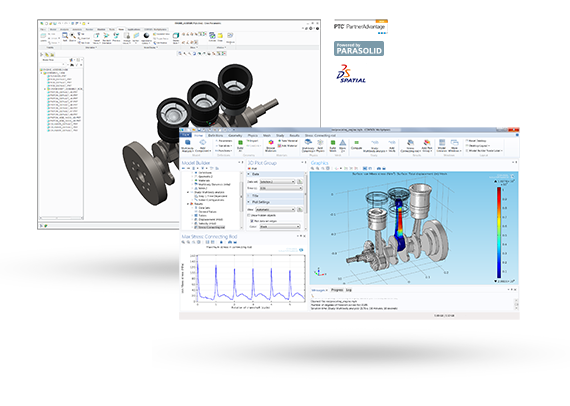 Création de Modèles COMSOL Multiphysics Associés aux Géométries PTC® Creo® Parametric™
LiveLink™ for PTC® Creo® Parametric™ est un module complémentaire de COMSOL Multiphysics qui permet de relier en toute transparence les géométries CAO 3D réalisées dans PTC® Creo® Parametric™ aux géométries du modèle COMSOL Multiphysics à des fins de simulation. Creo Parametric est la solution de CAO 3D qui fait référence dans l'industrie. Elle se compose d'une panoplie complète d'outils qui assure une flexibilité et une productivité optimales. En associant COMSOL Multiphysics à LiveLink™ for PTC® Creo® Parametric™, vous bénéficiez des fonctions avancées de Creo Parametric, qui vous permettent de réaliser des géométriesau mieux des technologies actuelles, que vous pouvez ensuite intégrer dans un modèle COMSOL Multiphysics à des fins d'analyse et d'optimisation.
LiveLink™ for PTC® Creo® Parametric™ complète la mise au point de vos conceptions grâce à la simulation multiphysique, qui vous permet de mieux comprendre la manière dont se comporte un produit ou une géométrie dans l'environnement d'exploitation prévu. Les modèles définis dans COMSOL Multiphysics peuvent prendre en compte pratiquement tous les effets physiques pertinents et leurs interactions pour simuler votre application avec précision. LiveLink™ for PTC® Creo® Parametric™ comporte des fonctionnalités destinées à préparer les géométries CAO pour la simulation et à les mettre à jour tout au long du processus de simulation en vue de les utiliser par exemple avec des analyses paramétrées automatisés ou des études d'optimisation.
Mise à jour d'une Géométrie avec Maintien des Physiques
LiveLink™ for PTC® Creo® Parametric™ permet de synchroniser des géométries Creo Parametric avec des modèles COMSOL Multiphysics et de répercuter automatiquement les mises à jour de géométrie lorsque les deux programmes sont exécutés en même temps. Il est inutile d'exporter ou d'importer manuellement les modèles CAO dans COMSOL Multiphysics après chaque modification. Les paramètres définis dans Creo Parametric, y compris les dimensions ou la position des pièces, sont accessibles à partir de COMSOL Multiphysics, permettant d'effectuer des simulations avec des analyses paramétrées et des études d'optimisation. Grâce à la synchronisation, LiveLink™ for PTC® Creo® Parametric™ conserve les définitions physiques associées sur les limites et domaines du modèle géométrique, même après la mise à jour ou l'ajout de caractéristiques à une géométrie.
---
Préparation des Géométries CAO à la Simulation
LiveLink™ for PTC® Creo® Parametric™ est capable de détecter et de réparer automatiquement les anomalies géométriques présentes dans une conception, ainsi que de supprimer des caractéristiques superflues afin de préparer au mieux une géométrie CAO pour la simulation. Lors de la phase d'import d'une géométrie CAO, le module applique des tolérances prédéfinies afin d'identifier automatiquement les problèmes et de garantir que les solides ou surfaces importés sont définis correctement. La cicatrisation des discontinuités est également effectuée automatiquement lors de l'import. Cela permet de garantir la génération d'un solide compatible avec le maillage et la simulation. Il arrive qu'une géométrie comporte des détails ou des anomalies de petite taille, souvent sans importance, qui créent des zones au maillage extrêmement dense rendant les simulations nettement moins performantes. C'est pourquoi, une fois l'import terminée, vous pouvez supprimer les caractéristiques superflues d'une géométrie en identifiant ces détails fins à l'aide des paramètres de tolérance. Vous pouvez alors supprimer la totalité des éléments répondant aux critères spécifiés ou une partie d'entre eux (que vous sélectionnez). Vous pouvez ainsi supprimer des fonctionnalités telles que les faces minces, les petites faces ou arêtes et d'autres éléments comme les congés.
Les opérations géométriques virtuelles disponibles dans COMSOL Multiphysics offrent un moyen supplémentaire de réduire la complexité du calcul dans une simulation causée par des maillages denses. Pour créer une géométrie virtuelle, vous commencez par sélectionner dans une géométrie les petites caractéristiques que les outils de maillage doivent ignorer. La suppression de ces caractéristiques dans une géométrie implique de combler ensuite les espaces résultants en étendant ou en rétrécissant les faces ou les arêtes environnantes. Cette opération modifie inévitablement la courbure locale de l'objet géométrique. Grâce à l'utilisation d'opérations géométriques virtuelles, vous pouvez conserver cette courbure, car les surfaces et les arêtes ne sont ni supprimées ni modifiées mais simplement masquées. En simulation, le maillage appliqué à une géométrie virtuelle nécessite moins de ressources de calcul et repose sur la géométrie d'origine, même dans les détails les plus infimes.
Import et Export de Fichiers CAO
Plutôt que de relier vos fichiers CAO à un modèle COMSOL Multiphysics ou de les synchroniser directement par rapport à ce modèle, vous pouvez les importer et les exporter dans des formats très variés. LiveLink™ for PTC® Creo® Parametric™ vous permet d'importer des fichiers CAO 3D dans les formats Creo Parametric (.prt, .asm), ainsi que dans l'un des formats courants Parasolid®, ACIS®, STEP et IGES. De plus, vous pouvez importer les fichiers natifs des logiciels de CAO Inventor® et SOLIDWORKS®. Le module File Import for CATIA® V5 en option permet d'importer le format de fichier natif. Les modèles de CAO 3D sont convertis en géométries Parasolid, qu'il est ensuite possible de modifier davantage dans l'environnement COMSOL Multiphysics. Les modifications pouvant être apportées à une géométrie Parasolid dans COMSOL Multiphysics sont les suivantes : opérations géométriques booléennes, ajout de domaines fluides à un modèle qui serait sinon exclusivement composé de pièces solides, etc. Lorsque vous modifiez une géométrie importée, voire lorsque vous créez vos propres ajouts destinés à illustrer un concept, vous êtes toujours assuré de pouvoir partager votre travail en exportant les géométries modifiées dans les formats de fichier Parasolid ou ACIS afin que vos collègues puissent les importer dans d'autres outils.
PTC et Creo Parametric sont des marques déposées de PTC Inc. ou de ses filiales aux Etats-Unis et dans d'autres pays. Toutes les autres marques sont la propriété de leurs détenteurs respectifs. Pour obtenir la liste de ces propriétaires de marques, rendez-vous sur le site http://www.comsol.com/tm. COMSOL AB, ses filiales et ses produits ne font l'objet d'aucune affiliation, d'aucune approbation, d'aucun parrainage ou d'aucun soutien de la part de ces propriétaires de marques.
Keeping Cool: SRON Develops Thermal Calibration System for Deep-Space Telescope
C. de Jonge SRON, Netherlands
Deep-space telescopes require ultrasensitive detectors and calibration to pick up weak far-infrared signals. The SpicA Far-InfraRed Instrument (SAFARI), an infrared camera that will fly aboard the Space Infrared Telescope for Cosmology and Astrophysics (SPICA), has sensors that measure the far-infrared spectrum. The SAFARI system includes a ...
Geometric Parameter Optimization of a Tuning Fork
This model computes the fundamental eigenfrequency and eigenmode for a tuning fork that is synchronized from Creo Parametric via the LiveLink interface. The length of the fork is then optimized so that the tuning fork sounds the note A, 440 Hz.