Pipe Flow Module
Simuler les Phénomènes de Transport et d'Acoustiques dans les Conduites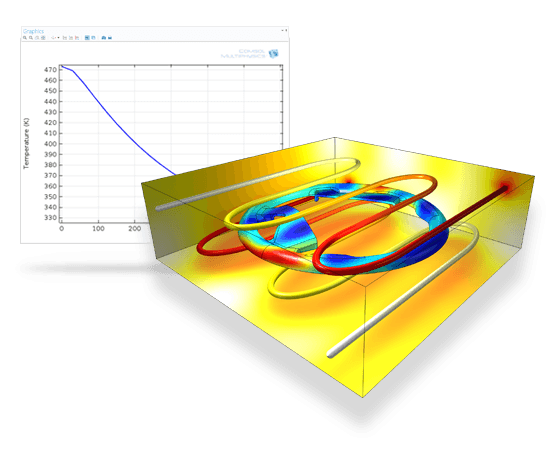 Prendre en Compte Toute la Physique en Réduisant les Ressources de Calcul
Le Pipe Flow Module est utilisé pour les simulations d'écoulement, de transfert de chaleur et de masse, de variation de pression et d'ondes acoustiques dans des réseaux de conduite et de canalisation. Il peut être facilement intégré à tous les autres modules de la suite de produits COMSOL® afin de modéliser les effets des conduites dans de grandes entités, comme les conduites de refroidissement dans les blocs-moteurs ou les conduites d'alimentation et de production reliées à des cuves. Cela permet d'économiser les ressources calcul au profit de la simulation globale des phénomènes à l'œuvre dans les réseaux de conduite. Utile pour déterminer la vitesse, la pression, les concentrations de matériau et les distributions de température dans les conduites et les canalisations, ce module permet également de simuler la propagation des ondes acoustiques et l'effet antibélier.
Idéal pour Simuler les Ecoulement de Fluide Incompressible à Différentes Régimes
Le Pipe Flow Module permet de simuler l'écoulement incompressible dans les conduites et les canalisations, qui possèdent une longueur suffisante pour que l'écoulement soit considéré comme totalement développé. Pour éviter de mailler la section transversale de la conduite avec un maillage 2D ou 3D, il utilise les éléments d'arête, avec une composante de vitesse moyenne tangentielle le long des arêtes. Autrement dit, les variables modélisées sont moyennées dans les sections transversales de la conduite et leurs variations interviennent le long de la conduite uniquement. Les expressions intégrées pour les coefficients de frottement de Darcy couvrent différents d'écoulements, en particulier en régime laminaire et turbulent, les fluides newtoniens et non newtoniens, différentes formes ou géométries de section transversale, ainsi qu'une vaste gamme de valeurs pour la rugosité de surface relative. Elles peuvent varier selon leur position dans le réseau, ou directement en fonction des variables modélisées.
Le frottement n'est pas la seule contribution à la perte de pression dans les réseaux de conduite. Le Pipe Flow Module prend également en compte les effets des coudes, contractions, dilatations, jonctions en T et vannes qui sont calculés à l'aide d'une bibliothèque complète de coefficients de perte standard de l'industrie. Les pompes, quant à elles, sont également disponibles en tant que dispositifs d'induction d'écoulement. Comme dans les autres interfaces spécialisées de la suite de produits COMSOL, il est possible de manipuler librement les équations sous-jacentes, d'ajouter des termes source ou dissipateurs et d'exprimer les propriétés physiques en tant que fonctions de toute variable du modèle. COMSOL Multiphysics® permet également d'importer des données pour décrire une propriété de matériau ou un paramètre de processus spécifique, de même que les sous-programmes créés dans MATLAB®.
---
Images supplémentaires
Couplage de l'Ecoulement en Conduite avec d'Autres Physiques et Applications
Les physiques du Pipe Flow Module décrivent la conservation de la quantité de mouvement, de l'énergie et de la masse dans les fluides qui circulent dans des systèmes de conduite ou de canalisation. Ces réseaux peuvent être facilement couplés avec d'autres systèmes qui ne peuvent pas être décrits avec les méthodes approchées du Pipe Flow Module, mais qui exigent une description physique complète en 2D ou 3D. Le Pipe Flow Module permet de faire correspondre les données des arêtes aux surfaces et aux volumes, et inversement. Autrement dit, l'écoulement ou le transfert de chaleur dans un réseau de conduite peut être couplé à celui qui intervient, par exemple, dans la cuve en 3D complètement maillée, et résolu simultanément. De plus, comme pour tous les modules complémentaires de la suite de produits COMSOL, ce couplage peut intervenir entre des formulations physiques différentes, garantissant la résolution facile d'une propriété telle que la contrainte thermique ; par exemple, les contraintes d'origine thermique dans un bloc-moteur équipé de canaux de refroidissement.
Le Pipe Flow Module propose des interfaces spécialisées pour la simulation du transfert de chaleur et de masse, et des réactions chimiques. Le réseau de conduite peut être intégré dans un domaine solide 3D par exemple. Dans le cas d'un transfert de chaleur, le module calcule le bilan d'énergie dans les systèmes de conduite, à commencer par les contributions en lien avec le domaine 3D, qui sont exprimées en tant que sources ou dissipateurs dans les équations de conduite. Cette opération est exécutée automatiquement, en activant l'interaction avec le matériau solide 2D ou 3D dans l'interface utilisateur. Cette dernière permet également de sélectionner dans le Pipe Flow Module les corrélations appropriées entre la convection forcée ou naturelle et l'environnement ambiant, les matériaux des conduites et l'épaisseur des parois. Les interfaces spécialisées pour le transport de matière résolvent le bilan de masse dans le système de conduite et, après couplage avec l'écoulement en conduite, prennent également en compte la diffusion, la convection, la dispersion et les réactions chimiques.
Physiques pour l'Analyse du Coup de Bélier et de l'Acoustique en Conduite
La prise en compte des propriétés élastiques du fluide et du mur permet de modéliser l'écoulement compressible induit par les phénomènes hydrauliques transitoires rapides dans le Pipe Flow Module. Connus sous le nom de coup de bélier, ces effets peuvent être induits par la fermeture rapide d'une vanne.
La propagation des ondes acoustiques dans les conduites flexibles est un autre facteur important dans la conception, la planification et la construction de ces réseaux. Utilisé conjointement avec l'Acoustics Module, le Pipe Flow Module permet d'effectuer des analyses acoustiques fréquentielles et temporelles. Les physiques résolues dans le Pipe Flow Module peuvent être couplées en toute transparence aux autres physiques des systèmes de conduite, ainsi qu'aux physiques du milieu environnant.
Simulations d'Ecoulement en Conduite pour la Plupart des Industries
Le Pipe Flow Module est idéal pour modéliser tous les types de réseaux de conduite et de canalisation dans lesquels l'écoulement, les transferts de masse et de chaleur et les ondes acoustiques sont à l'œuvre : systèmes de conduite des usines chimiques et de traitement, centrales électriques, raffineries, pipelines d'eau et de pétrole, systèmes de ventilation et systèmes de refroidissement dans les moteurs et les turbines. Qui plus est, ce module est particulièrement utile pour les modélisations effectuées dans COMSOL Multiphysics et ses modules complémentaires : optimisation des systèmes de refroidissement complexes intégrés dans les turbines, systèmes de moulage et de fusion, et échangeurs de chaleur, planification des systèmes de ventilation dans le bâtiment et conception de systèmes de chauffage géothermique.
Toutes les marques citées dans ce document sont la propriété de leurs détenteurs respectifs. COMSOL AB, ses filiales et ses produits ne font l'objet d'aucune affiliation, d'aucune approbation, d'aucun parrainage ou d'aucun soutien de la part de ces propriétaires de marques. Pour obtenir la liste de ces propriétaires de marques, rendez-vous sur le site http://www.comsol.com/tm.
Simulation Enables the Next Generation of Power Transformers and Shunt Reactors
L. Jovelli Siemens, Brazil
From power generation to its distribution to end users, power transformers and shunt reactors are used throughout the electrical grid for voltage conversion and to absorb reactive power. At Siemens Brazil in Jundiai, São Paulo, designers are using multiphysics simulation to verify that grid-integrated transformers and shunt reactors can handle ...