Optimization Module
Optimisation et Amélioration de vos Designs Techniques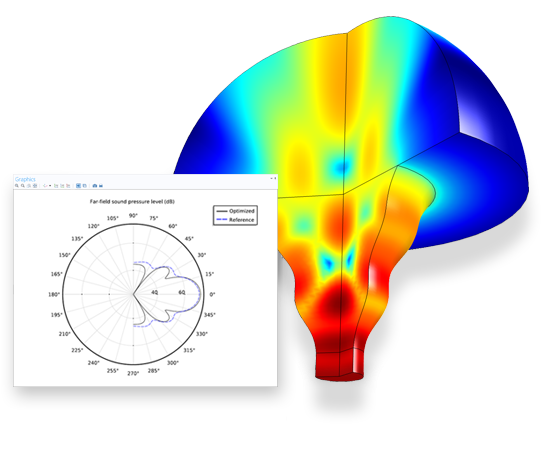 Amélioration de vos Modèles COMSOL Multiphysics
L'Optimization Module est un module complémentaire que vous pouvez utiliser avec tout autre produit COMSOL Multiphysics existant. Une fois créé le modèle COMSOL Multiphysics et obtenu des premiers résultats, il est souvent nécessaire d'améliorer votre design initial. Cette démarche comprend quatre étapes. D'abord, vous définissez votre fonction objectif : cette fonction permet de décrire le comportement du système simulé en rapport à un objectif précis. Ensuite, vous définissez un ensemble de variables de contrôle, c'est-à-dire les données d'entrée du modèle que vous voulez modifier, en lien avec l'objectif. Troisièmement, vous précisez un ensemble de contraintes, en fait les limites des intervalles de valeurs de vos variables de contrôle ou des conditions de fonctionnement qui doivent être remplies. Enfin, vous utilisez l'Optimization Module pour optimiser votre design en modifiant ces variables tout en respectant les contraintes. L'Optimization Module est une interface générale permettant de définir des fonctions objectif et des variables de contrôle, et de préciser des contraintes. Les données d'entrée du modèle, qu'il s'agisse des dimensions géométriques, des formes d'une pièce, des propriétés matériau ou des distributions spatiales des matériaux, peuvent être traitées comme variables de contrôle. Tout type de données en sortie du modèle peut être utilisé pour définir la fonction objectif. Vous pouvez associer l'Optimization Module à tous les produits de la gamme COMSOL Multiphysics et aux produits complémentaires LiveLink™ pour optimiser une dimension géométrique dans un logiciel de CAO tiers.
---
Images supplémentaires
Algorithmes d'Optimisation sans Gradient et avec Gradient
L'Optimization Module propose deux classes de méthodes d'optimisation : sans gradient et avec gradient. L'optimisation sans gradient est utile si vos fonctions objectif et vos contraintes sont discontinues par endroit et ne présentent pas de dérivées analytiques. Par exemple, vous pourriez minimiser le pic de contrainte de votre pièce en modifiant ses dimensions. Toutefois, lorsque les dimensions changent, la position des pics de contrainte passent d'un point à un autre. Une telle fonction objectif n'est pas analytique et nécessite une approche sans gradient. Trois méthodes d'optimisation sans sans gradient sont disponibles dans l'Optimization Module : recherche de coordonnées, méthode de Nelder-Mead et méthode Monte Carlo.
L'Optimization Module calcule un gradient par différentes méthodes pour s'approcher des valeurs optimales des variables en jeu dans votre design. Vous pourriez minimiser la masse totale d'une pièce, en fonction des contraintes mécaniques associées, à l'aide de cette approche. La masse d'une pièce est habituellement directement dérivable des dimensions de la pièce, ce qui permet de suivre une approche avec gradient. L'Optimization Module calcule la dérivée analytique exacte de vos fonctions objectif et de vos contraintes à l'aide de la méthode adjointe du programme d'optimisation SNOPT. Celui-ci a été développé par Philip E. Gill de l'université de Californie à San Diego et Walter Murray et Michael A. Saunders de l'université de Stanford. Le deuxième algorithme avec gradient employé est un solveur d'optimisation de type Levenberg-Marquardt. Vous pouvez y recourir si la fonction objectif est du type des moindres carrés, ce qui est généralement le cas pour l'estimation de paramètres et l'ajustement de données par une courbe.
La méthode d'optimisation avec gradient présente l'avantage de résoudre des problèmes avec des centaines, voire des milliers de variables de contrôle dont les coûts analytiques augmentent très faiblement même si le nombre de variables de contrôle augmente. La méthode adjointe traite simultanément toutes les dérivées analytiques alors que la méthode sans gradient doit rechercher une approximation de chaque dérivée, ce qui prend plus de temps si le nombre de variables de contrôle augmente. Les méthodes avec gradient peuvent intégrer des contraintes plus complexes.
La méthode sans gradient présente l'avantage d'être simple. Elle ne nécessite pas la détermination d'une fonction objectif dérivable et est plus facile à configurer. Toutefois, en raison des coûts analytiques, les méthodes sans gradient sont plus attrayantes lorsque le nombre de variables de contrôle est égal ou inférieur à 10. En pratique, elles permettent de résoudre un vaste éventail de problèmes d'optimisation.
L'optimisation de paramètres permet d'optimiser n'importe quelle donnée scalaire, définie en entrée d'un modèle, telles que les débits et l'amplitude des chargements. Il s'agit normalement du type d'optimisation le plus simple à mettre en œuvre, quelle que soit la technique.
L'estimation des paramètres est plus complexe et revient à corréler un modèle COMSOL à des données expérimentales. En principe, l'objectif consiste à utiliser un modèle pour estimer ses propriétés matériau.
Optimisation des Dimensions, de la Forme et de la Topologie
Les méthodes d'optimisation peuvent être caractérisées par les types de variables à optimiser. L'Optimization Module propose l'optimisation des dimensions, de la forme et de la topologie, chacune ayant une place bien définie dans le processus de design.
L'optimisation dimensionnelle consiste à définir des variables de contrôle qui interviennent directement en fabrication. Les variables de contrôle standards peuvent être la taille des trous ou la longueur, la largeur et la hauteur des éléments de structure d'une pièce. L'optimisation dimensionnelle est en principe utilisée dans la dernière étape du processus de conception. Elle intervient lorsque la géométrie est plus ou moins fixée en terme de forme globale. La méthode sans gradient est habituellement appliquée à ce stade.
L'optimisation de forme intervient plus tôt dans le processus de conception et consiste plus en une modification de l'objet sans représentation de la forme. Il convient alors de choisir plus scrupuleusement les variables de contrôle, l'objectif étant d'améliorer la forme sans trop contraindre la conception. La méthode avec gradient est privilégiée si une fonction objectif analytique peut être déterminée.
L'optimisation de la topologie est appliquée très tôt dans le processus de conception, généralement lors de la phase initiale de définition. L'optimisation de la topologie concerne la distribution spatiale du matériau comme une variable de contrôle et permet d'insérer ou de supprimer des éléments pour améliorer la fonction objectif. En raison du nombre élevé de variables de contrôle, seule l'optimisation avec gradient est utilisable en pratique.
Numerical Simulation-Based Topology Optimization Leads to Better Cooling of Electronic Components in Toyota Hybrid Vehicles
Toyota Research Institute of North America, MI, USA
The Toyota Research Institute in Ann Arbor drives cutting-edge research in energy efficiency, mobility infrastructure, and safety. Here, Ercan Dede and his team are designing heat sinks (or cold plates), which are affixed to fragile electrical systems and other applications in Toyota's hybrid vehicles. Their simulations simulate the cold plate ...
Simulating the Release Mechanism in Drug-Eluting Stents
T. Schauer, I. Guler Boston Scientific Corporation, MN, USA
Stent insertion through the coronary artery is a common procedure used to treat restricted blood flow to the heart caused by stenosis. Following the procedure, restenosis may occur due to excessive tissue growth around the stent. Researchers at Boston Scientific are using multiphysics simulation to better understand how drug-eluting stents ...