CFD Module
Simulate Fluid Flow Applications with the CFD Module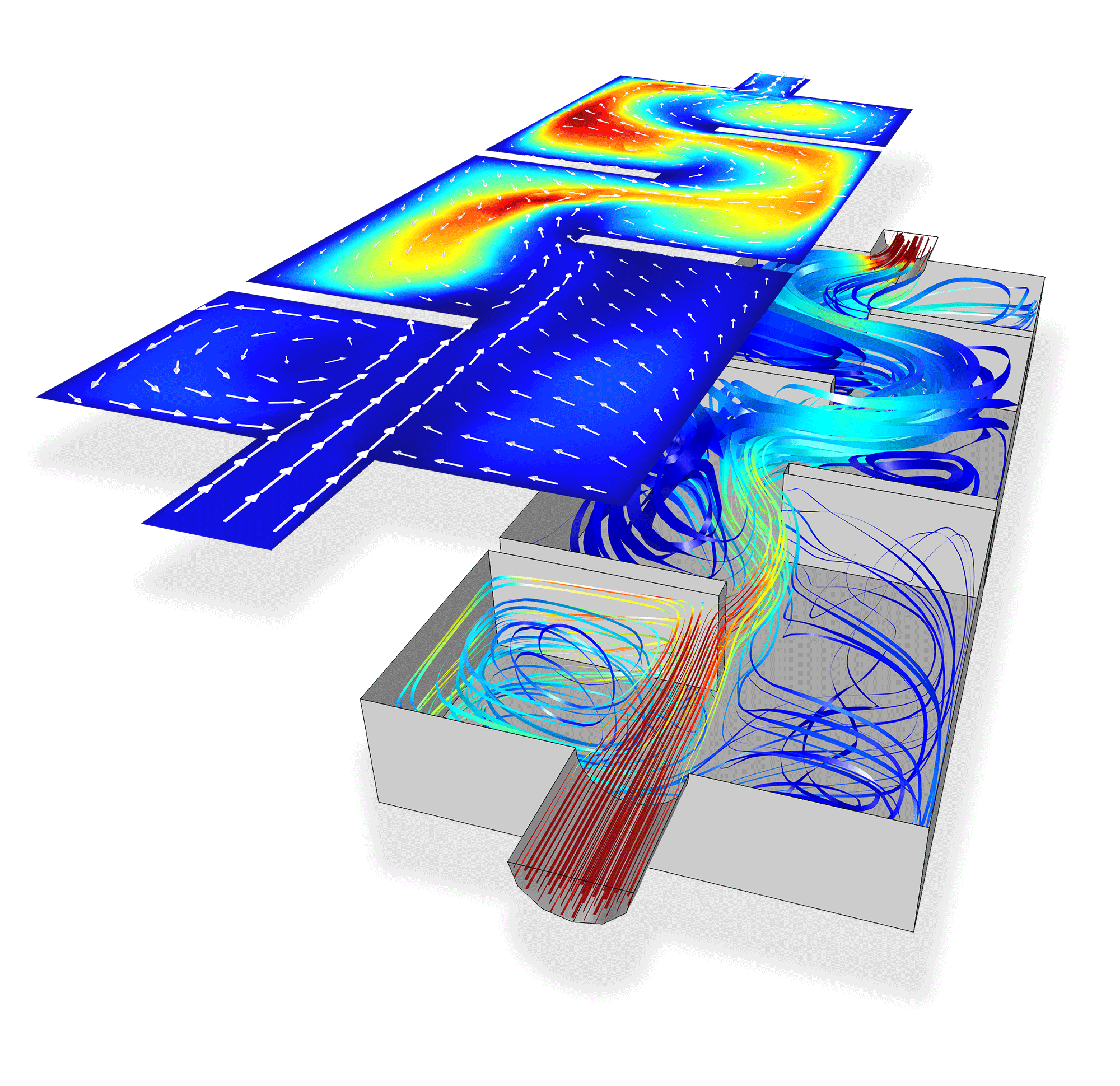 Simulation Software for All Fluid Flow Applications
The CFD Module is a numerical simulation platform for computational fluid dynamics (CFD) that accurately describes your fluid flow processes and engineering designs. Using the CFD Module, you can model most aspects of fluid flow, including compressible, nonisothermal, non-Newtonian, multiphase, and porous media flows — all in the laminar and turbulent flow regimes. For full control over your CFD models, you also have the option to input your own equations into the software. The CFD Module can be used together with the other modules from the COMSOL® product suite to run multiphysics simulations where fluid flow is important.
The CFD Module GUI grants you full access to all steps in the modeling process. This includes the following steps:
Selecting the appropriate description of the flow, for example single-phase or two-phase, laminar or turbulent flows, etc.
Creating or importing the model geometry
Defining the fluid properties
Adding source and sink terms, or editing the underlying equations of the fluid model, if required
Selecting mesh elements and controlling the density of the mesh at different positions
Selecting solvers and tuning them, if required
---
Additional Images:
Unified Platform for Multiphysics and Multidisciplinary Simulations
Flow is an integral part of many different processes and applications, and must be understood and optimized often with respect to how it affects other processes. The effective cooling of a computer's hard drive, the dispersion of energy within the damping film of an accelerometer, and the transport of species through the different parts of a chemical reactor are examples where fluid flow is a contributor to a process described by other physics. Yet, in reality, the heat emanating from the electronic devices affects the fluid's density. The accelerometer's elasticity imposes an oscillation on the flow, and the reactions change chemical composition and potentially the fluid flows' driving pressure. This means that you must also include their effects for a completely accurate description of the overall process.
COMSOL Multiphysics and the CFD Module help in describing such processes through the seamless coupling of all involved physics, and through allowing unhindered access to the model equations directly in the GUI. Also at your disposal are the two-way coupled fluid structure interaction (FSI) formulations. These allow you to model scenarios where the fluid deforms a structure, and where this structure's reaction to its deformation in turn influences the fluid flow. All the physics interfaces in the CFD Module can be coupled with any of the other modules in the COMSOL Product Suite to provide the standard platform for applications where computational fluid dynamics need to be considered.
COMSOL also provides modules that model flow in alternate ways to the CFD Module, but which can still be easily coupled to utilize the benefits from both. One example of this is the Pipe Flow Module, which models fully developed flow in 2D and 3D piping networks using edge elements, with one tangential average velocity component along the edges, for describing the pipe sections. This allows you to model flow in a pipe network connected to tanks in a process, but avoid meshing the cross section of the pipes in the network, which would result in large 3D meshes. COMSOL contains a feature that seamlessly allows the mapping of data from edges, to surfaces, and volumes, and vice versa, to connect pipe networks to fully meshed 2D or 3D geometries. In this way, you can consider the computational fluid dynamics properties of a certain unit within a whole network of piping, and adjust the operating conditions of both in connection to each other.
Since all physics are modeled using the same, standard graphical user interface and workflow, CFD engineers can easily communicate with other engineers analyzing different characteristics of the same component or process, such as structural, electrical, or chemical properties. All you have to do is send over the file, switch off the physics not being investigated, add another physics interface or two, and continue modeling. And, of course, couple these new physics interfaces to the one describing fluid flow for a full multiphysics simulation of the component or process.
Approaching Your Final CFD Solution in Steps
Simulating computational fluid dynamics in equipment or processes is often a workflow where you approach a final, accurate solution in steps. The CFD Module contains many different tools, features, settings, and interfaces to assist you through all the steps of your workflow.
The CAD Import Module or one of the LiveLink™ products assists you in bringing in the geometry of your part, component, or process to be simulated from a third-party CAD software. These products allow you to subsequently manipulate your geometry to help reduce small features and artifacts that may not be important for the flow, but that complicate the meshing of CFD simulations.
Once you have your 3D CAD design within the CFD Module, you may not want to immediately launch yourself into performing 3D simulations. COMSOL Multiphysics supports the ability to create a 2D modeling workspace from 3D geometries. By working on a 2D geometry, such as a representative cross section, you will be able to familiarize yourself with a number of the parameters in your simulation. Without using the large computational resources that a 3D model would require, you can:
Investigate the effect fluid properties have on the overall simulation
Decide what the appropriate turbulence model to use is
Determine the placement of appropriate meshing and boundary layer meshing
Select the solvers and settings to use
Study the effects of multiphysics couplings on the fluid flow
Estimate the accuracy you may expect from a 3D model
With a greater understanding of your system, you can then perform the full 3D simulation using the knowledge and optimized settings gained from the 2D model. This feature is also especially useful for treating 3D CAD designs that are symmetric or axisymmetric, avoiding 3D modeling altogether, and reducing the computational requirements substantially.
Tools for Providing Flexibility within Meshing and Robust Solving
Meshing is often a critical step in modeling computational fluid dynamics in devices or processes. The mesh must be good enough to provide accuracy, but not too fine so as to drain computational resources. COMSOL Multiphysics provides many different tools to ensure a good mesh for fluid flow simulations. This includes creating unstructured, structured and swept meshes, which allow for flexibility in considering the modeling domain's geometric dimensions and their ratio, and the effects on the flow's directions. The CFD Module also utilizes boundary layer meshing to insert structured layers of mesh along boundaries such as walls, and integrate them into surrounding structured or unstructured meshes to become an overall hybrid mesh.
The CFD Module makes use of most of the linear, nonlinear, time-dependent, and parametric solvers found within COMSOL Multiphysics. This includes direct solvers for solving 2D and small 3D models, which have good abilities to easily converge, and iterative solvers for larger or more complex models. Preconditioning and multigrid solvers are available to work in collaboration with other solvers to ensure solutions. Advanced solver functionality, such as the inclusion of crosswind and streamline diffusion, and smoothing methods, are available, and their values can be fine-tuned along with most of the other solver settings. The CFD Module also utilizes elements of different orders in one and the same simulation, and may apply lower order elements to solve one variable, such as pressure, and higher order elements to solve the other variables.
The solver scheme also allows for better approximations of initial values for a solving process. This includes setting up solver schemes that will solve for an easier description of flow, such as the laminar flow field within a certain modeling domain, and apply this solution as the initial guess to a turbulent flow description. A solution using the Frozen Rotor interface can be used as the initial guess to a full simulation of the rotating modeling domain, saving you a lot of computational resources.
Extract Accurate and Descriptive Data from CFD Simulations
The CFD Module calculates properties intrinsic to fluid flow, such as: flow patterns; pressure losses; forces on objects subjected to flow, drag, and lift; temperature distribution; and variations in fluid composition in a system. Moreover, it provides qualitative postprocessing involving surface, streamline, ribbon, arrow, and qualitative particle tracing plots as well as animations. Data from all parameters and variables in the underlying equations, and extra terms are accessible to be extracted and plotted against any other parameter or variable. This includes postprocessing derived values, like drag and lift coefficients. By including and coupling physics from the Particle Tracing Module in the solving of your CFD applications, you can consider the effects of particles on both the flow itself (Lagrange-Euler), and on each other, through collisions and their own momentum.
CFD Module
Product Features
Full Navier-Stokes equations formulations for laminar and turbulent flow
Reynolds-Averaged Navier-Stokes (RANS) equations for the modeling of turbulent flow
RANS interfaces such as the k-epsilon, low-Reynolds k-epsilon, k-omega, SST (Shear Stress Transport), v2-f, and Spalart-Allmaras interfaces
Buoyancy terms in nonisothermal laminar and turbulent flow by default
Euler-Euler Model, Bubbly Flow, and Mixture Model methods for dispersed multiphase flows
Phase Field and Level Set interfaces for separated multiphase flows
Conduction and convection in gases and liquids
Flow in dense and sparse porous media through Darcy's Law and the Brinkman Equations
Physics interfaces for modeling Heat Transfer in Porous Media and Conjugate Heat Transfer
High Mach number flow interface for the modeling of compressible flow
Diffusion and convection of materials in dilute solutions with the specialized Reacting Flow interfaces
Tunable crosswind and isotropic diffusion stabilization methods for fluid flow, convective heat, and mass transport
Carreau and Power-Law models for modeling non-Newtonian fluids
Thin-film flow for lubrication and tribology in general
Variety of boundary conditions, such as flow through thin screens, periodic boundary conditions, and specification of laminar profiles at the inlet
Automatic boundary layer meshing and hybrid meshes where wall functions are defined
Built-in variables for computing the Reynolds, Prandtl, Nusselt, Rayleigh, and Grashof numbers
Functionality for formulating arbitrary expression of the modeled variable during postprocessing, including averaging over boundaries or domains, for example to evaluate lift and drag force coefficients
Particle tracing methods where particles can affect the flow (Lagrange-Euler)1
1Requires the Particle Tracing Module
Next Step:
Request a Software
Demonstration
Every business and every simulation need is different. In order to fully evaluate whether or not the COMSOL Multiphysics® software will meet your requirements, you need to contact us. By talking to one of our sales representatives, you will get personalized recommendations and fully documented examples to help you get the most out of your evaluation and guide you to choose the best license option to suit your needs.
Just click on the "Contact COMSOL" button, fill in your contact details and any specific comments or questions, and submit. You will receive a response from a sales representative within one business day.