Multibody Dynamics Module
Multibody Dynamics Module
Analyse Cinématique d'Assemblages de Corps Rigides et Flexibles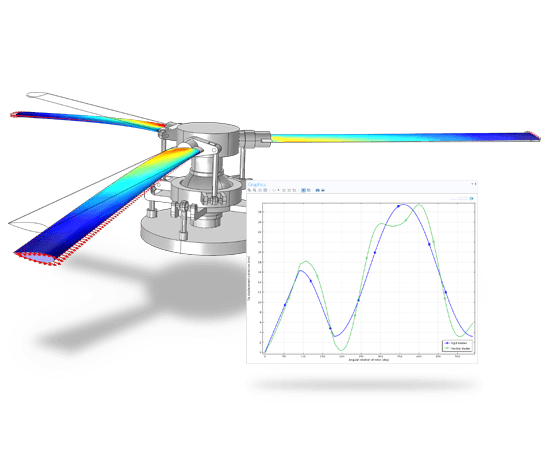 Des Outils pour la Conception et l'Optimisation des Assemblages
Le Multibody Dynamics Module est une extension du Structural Mechanics Module. Il propose un ensemble d'outils avancés basés sur la méthode des éléments finis (FEA) pour la conception et l'optimisation d'assemblages de plusieurs corps solides. Ce module permet de simuler des assemblages mixtes de corps solides rigides ou flexibles, soumis à de grands déplacements de translation ou de rotation. Ces analyses permettent d'identifier les points critiques des assemblages, ouvrant la voie à des analyses de mécanique des structures plus détaillées au niveau des composants. Le Multibody Dynamics Module est également utile pour analyser les forces qui s'exercent sur les segments de la structure ainsi que les contraintes générées dans les parties flexibles, et susceptibles de provoquer une rupture liée à la déformation ou à la fatigue.
Une Bibliothèque de Liaisons Prédéfinies
Le module propose une bibliothèque de liaisons prédéfinies qui permet de spécifier rapidement et efficacement les relations qui existent entre les différents composants d'un assemblage, de façon à leur imposer un seul type de mouvement spécifique. La liaison crée une connexion entre deux composants, l'un se déplaçant indépendamment dans l'espace tandis que l'autre est contraint à un mouvement spécifique, défini par le type de la liaison. Le Multibody Dynamics Module propose des liaisons génériques, à même de simuler d'autres types de liaison. Les chercheurs et les ingénieurs peuvent donc utiliser les liaisons suivantes pour créer des modèles précis en mécanique d'assemblage :
---
Images supplémentaires
Flexibilité Totale pour l'Analyse des Assemblages
Dans un système, les composants soumis à des déformations peuvent être modélisés en tant que corps flexibles et les autres composants (ou même leurs pièces) peuvent être définis en tant que corps rigides. L'utilisation du Multibody Dynamics Module avec le Nonlinear Structural Materials Module ou le Geomechanics Module permet en outre d'utiliser des lois de comportement matériau non linéaires. Dans le même temps, le couplage du Multibody Dynamics Module avec d'autres physiques de COMSOL Multiphysics ou de ses modules permet de mesurer des effets liés à l'environnement ou au fonctionnement même du mécanisme, comme les effets du transfert de chaleur ou des phénomènes électriques.
Il est possible d'effectuer différents types d'analyse des assemblages : temporelle, fréquentielle, de fréquence propre et stationnaire. Les liaisons peuvent être contraintes par des ressorts linéaires/de torsion avec des propriétés d'amortissement, des forces et moments appliqués et des mouvements imposés en fonction du temps. Les fonctionnalités d'analyse et de post-traitement incluent :
Déplacement/rotation relatif entre deux composants, avec leurs vitesses

Forces de réaction et moments d'une liaison

Cadres de référence pour les systèmes de coordonnées locales et globales

Contraintes et déformations dans les corps flexibles

Analyse de fatigue des corps flexibles en combinaison avec le Fatigue Module
Glissière (3D, 2D)
Charnière (3D, 2D)
Pivot glissant (3D)
Vis (3D)
Jonction plane (3D)
Rotule (3D)
Rainure (3D)
Rainure réduite (3D, 2D)
Le mouvement entre deux composants est souvent restreint par la présence ou les propriétés d'autres objets physiques. Il est possible d'appliquer une limitation et le verrouillage conditionnel du mouvement relatif des liaisons pour définir et modéliser ces systèmes complexes. En robotique, par exemple, le mouvement relatif entre deux bras peut être défini sous la forme d'une liaison temporelle prédéfinie. Les liaisons peuvent être aussi équialentes à des ressorts chargés, dont les facteurs d'amortissement peuvent être précisés dans le Multibody Dynamics Module.
Keeping Cool: SRON Develops Thermal Calibration System for Deep-Space Telescope
C. de Jonge SRON, Netherlands
Deep-space telescopes require ultrasensitive detectors and calibration to pick up weak far-infrared signals. The SpicA Far-InfraRed Instrument (SAFARI), an infrared camera that will fly aboard the Space Infrared Telescope for Cosmology and Astrophysics (SPICA), has sensors that measure the far-infrared spectrum. The SAFARI system includes a ...