LiveLink™ for SOLIDWORKS®
LiveLink™ for SOLIDWORKS®
Enrichissez votre Expérience de Conception avec SOLIDWORKS® grâce aux Simulations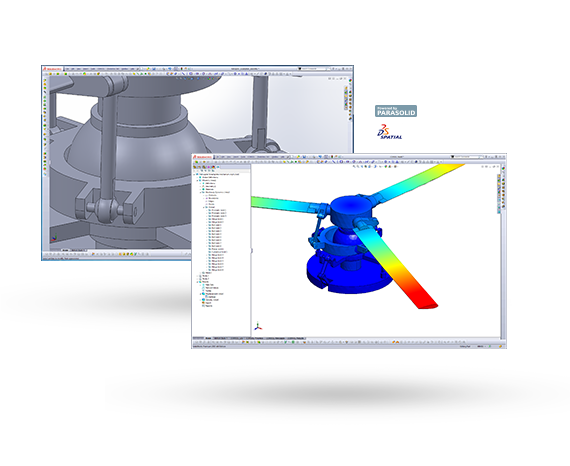 Interface Intégrée pour les Simulations COMSOL® et la Conception 3D dans SOLIDWORKS®
L'utilisation combinée de COMSOL Multiphysics® et de LiveLink™ for SOLIDWORKS® permet d'intégrer efficacement la simulation et la conception. SOLIDWORKS® est une solution CAO de référence pour la conception 3D et la gestion des données associées. Lorsqu'elle est utilisée de pair avec la simulation multiphysique, elle est un outil extrèmement efficace pour la conception, l'évaluation et l'optimisation des produits. Avec LiveLink™ for SOLIDWORKS®, vous pouvez pleinenement tirer parti des fonctionnalités de COMSOL Multiphysics afin de mieux comprendre votre conception SolidWorks dans l'environnement d'exploitation et évaluer avec précision l'impact de pratiquement tous les effets physiques et de leurs interactions.
COMSOL Multiphysics Directement Accessible depuis l'Interface de SolidWorks via l'Interface One Window
LiveLink™ for SOLIDWORKS® propose une interface bidirectionnelle entre COMSOL Desktop® et SolidWorks. Grâce à cette interface, vous pouvez synchroniser la conception CAO avec le modèle COMSOL et inversement, vous pouvez contrôler les paramètres de conception dans le fichier SolidWorks à partir de la simulation. Résultat : vous pouvez optimiser vos conceptions CAO au moyen de simulations avec des analyses paramétrées automatisées. Pour une intégration encore plus étroite, l'interface One Window (Une fenêtre) met à votre disposition dans SolidWorks les fenêtres, outils, icônes et commandes familiers dans COMSOL Multiphysics, afin de configurer et d'exécuter directement les simulations dans l'interface utilisateur de SolidWorks.
---
Synchronisation des Géométries CAO 3D SOLIDWORKS® et des Géométries COMSOL Multiphysics®
LiveLink™ for SOLIDWORKS® permet de synchroniser la géométrie de votre modèle COMSOL avec le fichier CAO SolidWorks correspondant. Avec la synchronisation, les définitions physiques et les conditions aux limites restent associées à leurs domaines respectifs et ce, notamment lorsqu'une géométrie est modifiée. Si vous vous servez de l'interface One Window, la synchronisation est automatique lorsqu'une modification apportée à la géométrie est détectée pendant le basculement entre l'environnement de conception SolidWorks et l'environnement de simulation COMSOL.
COMSOL Multiphysics peut accéder de manière régulière aux paramètres de la géométrie SolidWorks, ce qui facilite les études d'optimisation, notamment les analyses paramétrées, permettant d'évaluer l'impact de propriétés telles que le diamètre d'un perçage ou l'épaisseur d'un composant dans la conception. LiveLink™ for SOLIDWORKS® s'assure que les modifications apportées à la géométrie sont répercutées automatiquement, ce qui vous évite d'avoir à importer et à exporter vos géométries après chaque mise à jour.
Manipulation et Partage de Fichiers
LiveLink™ for SOLIDWORKS® comprend des fonctions permettant d'importer, d'exporter et même de lier des fichiers CAO à des modèles dans COMSOL Multiphysics. Il existe plusieurs options d'enregistrement de fichiers conçues pour faciliter le partage avec vos collègues des géométries SolidWorks et des modèles COMSOL associés. LiveLink™ for SOLIDWORKS® inclut l'ensemble des fonctionnalités disponibles dans CAD Import Module, sans oublier une interactivité plus poussée, avec l'interface One Window disponible dans SolidWorks.
Vous avez la possibilité d'importer des fichiers CAO au format SolidWorks (.sldprt, .sldasm) ainsi que dans les formats très répandus IGES, STEP, ACIS® et Parasolid®. De plus, vous pouvez importer les fichiers natifs des logiciels de CAO Inventor® et PTC® Creo® Parametric™. L'option facultative File Import (Importation de fichier) pour CATIA® V5 permet d'importer le format de fichier natif de ce logiciel. Les géométries CAO importées sont converties en géométries Parasolid® à l'aide de LiveLink™ for SOLIDWORKS®, vous donnant ainsi accès à un large éventail d'opérations géométriques destinées à préparer vos géométries pour la phase de simulation. Vous pouvez ensuite modifier davantage les géométries Parasolid dans COMSOL Multiphysics afin d'ajouter par exemple des domaines à la géométrie CAO d'origine, ceci afin de simuler des effets physiques tels que l'écoulement d'un fluide autour de la pièce. Pour partager une géométrie modifiée depuis l'environnement COMSOL Multiphysics, il vous suffit d'exporter le fichier au format ACIS ou Parasolid.
Simplification des Géométries pour les Besoins de la Simulation
Les géométries de modèle COMSOL créées à partir d'une géométrie CAO importée nécessitent généralement des manipulations pour simplifier le maillage et optimiser l'efficacité de la simulation dans COMSOL Multiphysics. LiveLink™ for SOLIDWORKS® comprend des fonctions de manipulation de géométries également disponibles dans CAD Import Module qui permettent notamment de réparer et de supprimer automatiquement des caractéristiques géométriques.
Lors de l'import d'une géométrie CAO, les anomalies géométriques présentes sont automatiquement détectées et supprimées. La cicatrisation (healing) intervient également à ce stade. Elle permet d'éliminer les espaces vides afin que les domaines solide soient correctement définis après l'import. Il est aussi possible de spécifier des tolérances destinées à contrôler la réparation des géométries lors de l'import. De manière similaire, il est possible de supprimer des caractéristiques géométriques dans une géométrie importée, comprenant de petits éléments tels que des congés. LiveLink™ for SOLIDWORKS® est capable de détecter les petites caractéristiques qui généreront un maillage très fin et réduiront l'efficacité de vos simulations. Ces caractéristiques sont supprimées et réparées manuellement dans SolidWorks ou dans l'environnement COMSOL.
Les opérations géométriques virtuelles disponibles dans COMSOL Multiphysics offrent une autre façon d'éviter que les détails d'une géométrie ne génèrent un maillage trop fin. En utilisant cette fonctionnalité, vous créez une géométrie virtuelle pour le maillage dans laquelle les caractéristiques sélectionnées sont exclues. Cette méthode présente un avantage non négligeable. En effet, les courbures d'origine sont conservées, ce qui peut améliorer la précision de la simulation pour certaines applications telles que l'analyse des contraintes dans un contact mécanique.
SolidWorks est une marque déposée de Dassault Systemes SolidWorks Corp. Toutes les autres marques sont la propriété de leurs détenteurs respectifs. Pour obtenir la liste de ces propriétaires de marques, rendez-vous sur le site http://www.comsol.com/tm. COMSOL AB, ses filiales et ses produits ne font l'objet d'aucune affiliation, d'aucune approbation, d'aucun parrainage ou d'aucun soutien de la part de ces propriétaires de marques.
Numerical Simulation-Based Topology Optimization Leads to Better Cooling of Electronic Components in Toyota Hybrid Vehicles
Toyota Research Institute of North America, MI, USA
The Toyota Research Institute in Ann Arbor drives cutting-edge research in energy efficiency, mobility infrastructure, and safety. Here, Ercan Dede and his team are designing heat sinks (or cold plates), which are affixed to fragile electrical systems and other applications in Toyota's hybrid vehicles. Their simulations simulate the cold plate's ...
Modeling Scar Effects in Electrical Spinal Cord Stimulation
Kris Carlson, Dr. Jay Shils & Dr. Jeffrey Arle Lahey Clinic Burlington, MA
The Neuromodulation Group at Lahey Clinic conducted a study based upon spinal cord stimulation (SCS). SCS involves implanting a series of electrodes that apply electric potential to the spine, interfering with pain signaling circuitry. It's used to alleviate chronic back and leg pain. Although the treatment remains effective for years, the ...
Innovative Packaging Design for Electronics in Extreme Environments
Brice McPherson APEI, AR, USA
Power electronics appear in many everyday products, including smartphones, electronic car parts, and household objects. Such devices require controlled temperature ranges, switching frequencies, and voltage levels to operate smoothly and reliably. For harsh environments, such as the depths below the earth's surface where oil is drilled, there is ...
Bike Frame Analyzer
The reliability of a bike frame can be estimated by analyzing the structural stress subjected to different load cases. This app leverages LiveLink™ for SOLIDWORKS® to interactively update the geometry while computing stress analyses. Using this app, you can easily test different configurations of a bike frame for different cases of dimensions, ...