Fatigue Module
Pour les Analyses de Fatigue à Haut et Bas Cycle, liée aux Contraintes et aux Déformations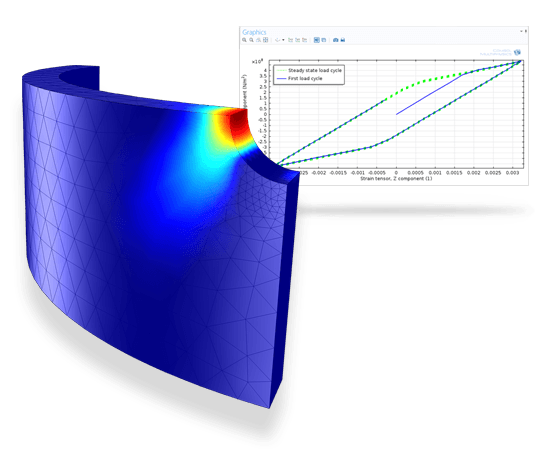 Analyse de Fatigue pour Différentes Structures et Applications
Lorsque des structures sont soumises à des chargements et des déchargements répétés, la fatigue des matériaux peut entraîner leur rupture à des charges inférieures à la limite statique. Il est possible de réaliser une analyse des structures en fatigue dans l'environnement COMSOL Multiphysics, via le Fatigue Module, un module complémentaire du Structural Mechanics Module. Grâce aux méthodes d'endommagement basées soit sur les contraintes soit sur les déformations, vous pouvez évaluer le régime de fatigue avec un nombre de cycles élevé ou faible. Dans le cas de charges variables, il est possible de calculer l'endommagement cumulé à partir de l'historique des charges et de la limite de fatigue. Vous pouvez simuler le cycle de charge en fatigue dans les corps solides, les plaques, les coques, les assemblages, les applications impliquant des contraintes et des déformations d'origine thermique, y compris dans les composants piézoélectriques.
---
Images supplémentaires
Analyse de fatigue d'une structure soumise à un nombre de cycles élevé pour un chargement non proportionnel à l'aide de méthodes d'endommagement dans le plan critique.
Répartition des cycles de contrainte en un point donné tel que calculé par l'algorithme de comptage Rainflow à l'aide d'un d'histogramme. Les contraintes moyennes sont affichées sur l'axe horizontal tandis que les amplitudes des contraintes sont indiquées sur l'axe vertical.
Solder joint in a surface mount resistor. Life prediction based on the dissipated creep energy in one thermal fatigue cycle.
Fatigue Curve
When analyzing fatigue through classical methods, the stress or the strain amplitude relates to the fatigue lifetime via a fatigue curve. The stress-life and the strain-life models provide a collection of methods where the fatigue curve can be defined in a variety of ways. These models are suitable for proportional loading when, for example, a single load oscillates between two values. You can address the high-cycle fatigue with the stress-life models containing the classical S-N curve, Basquin model, and an approximate S-N curve. You can make low-cycle fatigue prediction using the strain-life models containing the E-N curve, Coffin-Manson, and Combined Basquin and Coffin-Manson model.
Modèles d'Endommagement dans les Plans Critiques, lié aux Contraintes et aux Déformations
Les modèles d'endommagement dans le plan critique recherchent un plan particulièrement favorable à la création puis à la propagation d'une fissure. C'est là que s'exercera préférentiellement la fatigue. Ces modèles d'endommagement, basés soit sur les contraintes, soit sur les déformations, sont disponibles dans le Fatigue Module. Dans le domaine des structures soumises à un grand nombre de cycles, où la plasticité est extrêmement limitée, les modèles basés sur les contraintes sont généralement préconisés. Dans le Fatigue Module, la fatigue est alors estimée au moyen du critère de Findley, de la contrainte normale ou des critères de Matake, qui calculent le facteur d'usage qui est ensuite comparé à la limite de fatigue.
Les modèles basés sur les déformations évaluent des déformations ou des combinaisons de déformations et de contraintes lors de la définition d'un plan critique. Dès lors que le plan critique est identifié, le modèle détermine le nombre de cycles jusqu'à la rupture. Le Fatigue Module propose les modèles de Smith-Watson-Topper (SWT), de Fatemi-Socie et de Wang-Brown. Ces modèles s'utilisent généralement dans des conditions de fatigue à bas nombre de cycle, lorsque les déformations sont importantes. La règle de Neuber et la méthode Hoffmann-Seeger permettent dans ces conditions de déterminer approximativement l'effet de la plasticité dans une simulation linéaire-élastique rapide. Il est également possible d'envisager un cycle complet de correction élastoplastique pour le calcul en fatigue lors de l'utilisation du Nonlinear Structural Materials Module.
Affichage de vos Calculs de Fatigue
Le Fatigue Module calcule le nombre de cycles jusqu'à la rupture de même que le facteur d'usage en fatigue. Dans le cadre de simulations de cumul des endommagements, il est possible d'afficher la répartition des contraintes d'un chargement aléatoire appliquée en même temps que le facteur d'usage relatif. Cette simulation affiche les contributions d'une charge en fatigue spécifique par rapport au facteur d'usage en fatigue global, qui, dans ce cas précis, est considéré comme un endommagement. La répartition des contraintes est présentée en fonction de l'amplitude de contrainte et de la contrainte moyenne.
Analyse de Cumul des Dommages
Les chargements aléatoires introduisent diverses contraintes d'amplitude différente dans une structure. Dans le Fatigue Module, l'analyse de cumul des dommages permet non seulement d'identifier les tendances générales dans l'historique des contraintes, mais également de calculer les dommages cumulés par chacune de ces contraintes. Il est possible d'évaluer l'historique des contraintes par le biais du critère de l'énergie de distorsion élastique ou contrainte de von Mises, avec un signe déterminé par la contrainte hydrostatique ou principale. L'historique des chargements est ensuite traité à l'aide de l'algorithme de comptage Rainflow, et les dommages sont calculés à l'aide de la règle du cumul linéaire de dommages de Palmgren-Miner. L'effet de la valeur de résistance thermique (R) est intégré via la courbe de Woehler (S-N) limitante.
Lorsque le nombre d'événements est important dans une analyse de chargement aléatoire, la simulation du cycle de charge est laborieuse. Il est possible de réduire ce délai de manière notable en excluant les effets non linéaires de la simulation. Dans ce cas, le cycle de contrainte peut être déterminé au moyen d'une superposition, sélectionnable dans une analyse de cumul des dommages. Le recours à cette technique permet non seulement de raccourcir la durée du calcul, mais aussi de réduire considérablement la taille du modèle à stocker pour les besoins de l'évaluation de la fatigue.
Thermal Fatigue
Material expansions or contractions due to temperature change introduce stress concentrations and strain accumulations that can lead to failure. The Fatigue Module provides a number of tools to address this through thermal fatigue modeling. The thermal load cycle can be simulated utilizing the Thermal Stress and the Joule Heating and Thermal Expansion physics interfaces. Thermal fatigue failure can be evaluated using several fatigue models. For nonlinear materials, this includes the Coffin-Manson model and the energy-based Morrow and Darveaux relations. In addition to the available options for inelastic strains or dissipated energies, the fatigue evaluation models can also be modified by the user to evaluate strain or energy expressions when calculating fatigue.
Vibration Fatigue
Vibration fatigue is an evaluation method based on a frequency-domain analysis making results available for a number of frequencies. It is used for predicting the results from a common type of experiment where a structure is subjected to an excitation with increasing frequency, sometimes called a sine sweep analysis. The following settings are available for vibration fatigue analyses:
A certain time spent at each frequency
A certain number of cycles spent at each frequency
A linear increase of frequency
A logarithmic increase of frequency